---
5. Environmental Scan
Statement of Issue:
This section presents the results of an environmental scan conducted by each County department. An environmental scan is an analysis of emerging internal and external trends that impact the organization.
Staff Recommendation:
No Board action required.
Background:
As a complement to the community survey presented later in these materials, staff has prepared an environmental scan. An environmental scan provides an analysis of emerging internal and external trends, issues and conditions that impact Leon County. This information is important to be considered during the strategic planning process as these factors change and evolve over time and impact priorities, performance and results. In addition to individual Commissioner's perceptions and priorities, the environmental scan and survey analysis provide a common set of factors for the entire Board to consider in refining Strategic Priorities and ultimately developing specific Strategic Initiatives for the next five-year Strategic Planning period.
As noted in Section 8 of the retreat materials, to optimize the Board's time at the retreat, staff will provide the Board with an initial set of updated directional statements for each of the Strategic Priorities. The proposed directional statement will be based on the environmental scan, as well as the community survey analysis and feedback from Commissioners.
The environmental scan reviews emerging trends in the following areas:
Demographics
Economic Analysis
Financial Health of Leon County
Community Engagement
Emergency Medical Response
Public Safety
Tourism Development
Development Activity
Planning
Human Services
Energy and Sustainability
Parks & Recreation
Staffing
Technology
Each section includes a list of emerging trends (internal and external) followed by a summary and analysis of each identified trend.
A. Demographics
External Trends:
Slowing population growth
"Baby Boomers" aged 65-79 are still our fastest growing age group
Leon County population exceeds national and state educational attainment rates
Leon County continues to be a racially and ethnically diverse community
Slowing population growth
Leon County's population increased from 275,487 residents in 2010 to 292,198 residents in 2020, according to the Census Bureau. This population change of 16,711 residents was an increase of 6.1% (compared with 14.5% for the State of Florida). Leon County's population growth in the 2010s was the lowest decade total since the 1930s. The University of Florida's Bureau of Economic and Business Research (BEBR) produces the official population estimates for the State of Florida. The projected 2030 Leon County population is 320,900, however, BEBR made this projection prior to release of the Census 2020 count of 292,198. BEBR will adjust its pending population projections based on the 2020 Census data.
Since the 2010 Census, an estimated 50.5% of Leon County's population growth occurred due to net natural increase (total births less total deaths) and the remaining 49.5% due to net migration. An estimated 89% of the population growth in Leon County occurred within the City of Tallahassee, while 11% was in Unincorporated Leon County.
Table #1 – Leon County Population Growth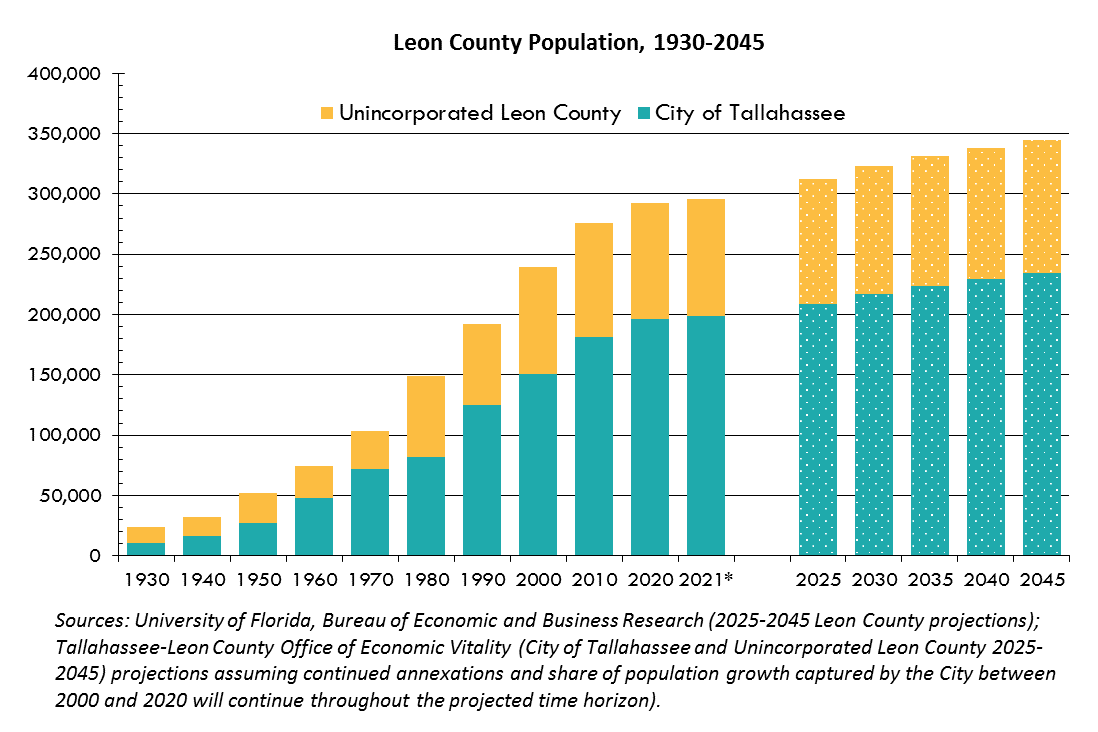 Baby Boomers aged 65-79 are still the fastest growing age group
Although the 65-79 age group represents only 11% of the County's total population, it remains the fastest growing age group, growing at an annual rate of 5.5% during 2010-2020. This growth is in part due to Leon County's increasing reputation as a retirement destination. In 2020, Southern Living proclaimed Tallahassee as "the ultimate retirement spot."
The local age dependency ratio calculated by BEBR indicates that Leon County has the sufficient labor force to support continued population growth among this age group. The age dependency ratio is way to measure the pressure on the labor force. Generally, a low dependency ratio indicates that there are sufficient people working who can support the dependent population that are of retirement age or are too young to work. Leon County's age dependency ratio increased from 40.9 in 2010 to 49.3 in 2020 meaning there are nearly 50 residents of Leon County who are not of working age for every 100 residents ages 18-64. Despite this moderate increase, Leon County's age ratio is still far below the statewide ratio of approximately 78.
The table below has Leon County population by age groups based on BEBR's 2020 population estimates. At the time this document was prepared, BEBR had not yet released age group population totals based on the 2020 Census data.
Table #2 – Leon County Population by Age Group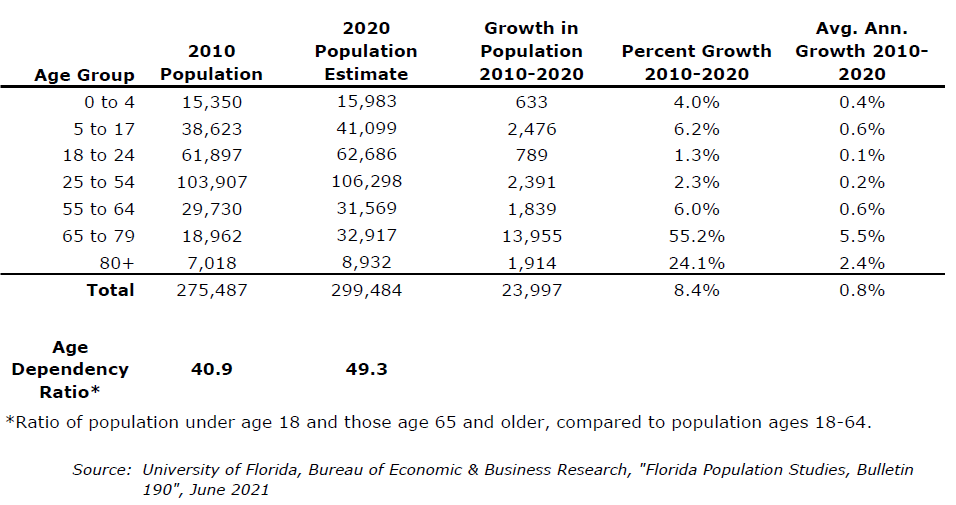 Leon County population exceeds national and state educational attainment rates
For the last 25 years the level of educational attainment of residents 25 years and over has steadily increased in Leon County and typically exceeds the national and state education attainment rates. As result, our community typically ranks in the top 20 "Most Educated Cities" by WalletHub. Higher educational attainment rates help position communities to attract new employers offering good paying jobs. Additionally, increasing educational attainments has helped communities to lower crime rates and improve the overall health and wellbeing of residents.
As of 2019, 46% of Leon County residents 25 years and over had obtained a Bachelor's degree or higher. This is an increase from 42% in 2000. In comparison, 30% of State of Florida residents and 32% of US residents 25 years and over had obtained a Bachelor's degree or higher.
Table #3 – Comparison of Educational Attainment Rates

Leon County continues to be a racially and ethnically diverse community
According to the Census Bureau, the County's 2020 population is 54% White, 31% Black, 8% Hispanic or Latino, and 7% Other Races or Two or More Races. This data shows that Leon County has become more racially and ethnically diverse as a community over time. For example, from 2010 to 2020, the County's minority population grew from 40% to 46% of the total population. This growth is in large part due to increasing number of Leon County residents that identified as Hispanic or Latino, Other Races, and Two or More Races. It is anticipated that Leon County will continue to have a racially and ethnically diverse population. By 2030, BEBR projects that the population of Leon County will be 55% White, 34% Black, and 11% Other Races, with 7% of Hispanic origin.
B. Economic Analysis
External Trends:
Gradual job growth
Cost of living below the national average
Projected middle-skilled job growth
Unemployment recovering from labor market shock of 2020
Increased new housing and improved home ownership stability
Rebounding commerce
Stable GDP growth
Stable local college enrollment
Assessment of State facilities
Internal Trends:
Increased sales tax collections
Gradual job growth
In 2020, Business Insider ranked Tallahassee #13 in "the 19 best cities in the South to live in after the coronavirus pandemic" and SmartAsset ranked Tallahassee #7 for "best places for career opportunities in the COVID-19 recession." These accolades are the result of the County's efforts to grow and diversify the local job market.
From 2010 to 2020, the Tallahassee metro area gained 11,900 private-sector jobs, with education and health services accounting for 40% of the gain, and professional and business services for 36%. The government sector, which accounted for about 35% of all non-farm jobs, lost some 2,500 jobs during that time. Overall job growth has averaged 0.8% per year since 2010, with private sector job growth averaging 1.3% per year. During this same time, government sector job growth decreased by an average of -0.2% per year.
Cost of living below the national average
For 2020, the Tallahassee urban area had an overall Cost of Living Index (COLI) of 97.0%, or 3.0% below the average cost of living for all participating urban areas. Preliminary data shows that the cost of living in Leon County has remained below the average in other areas. As of Q3 2021, the Tallahassee urban area had an overall COLI of 94.7%, or 5.3% below the average cost of living for all participating urban areas.
The COLI is released by the Council for Community and Economic Research (C2ER) to measure regional differences in the cost of consumer goods and services (like grocery items, healthcare, and housing). The index uses more than 90,000 prices covering 60 different items' prices collected three (3) times a year. C2ER has compiled the index from participating communities since 1968. The weighting structure of the index, as set by C2ER, reflects cost differentials for professional and executive households in the top 20% of income. Homeownership costs, for example, are more heavily weighted than they would be if the index reflected average costs for all urban consumers. The index does not measure inflation over time and index data from different quarters should not be compared. However, this research tool helps make accurate cost of living comparisons between Tallahassee-Leon County and other COLI-participating urban areas across the United States on an ongoing basis.
Projected middle-skilled job growth
Leon-Gadsden-Wakulla Counties will have nearly 20,000 jobs open in a variety of industries in the next eight (8) years. The Florida Department of Economic Opportunity (DEO) estimates most openings will be middle-skill positions—those available to adults with more than a high school diploma but less than a 4-year degree. Approximately 20% of these jobs will be in education and health services, 19% in leisure and hospitality, 19% in the business industry, and 9% in trade, transportation, and utilities. The median hourly wage for all industries is $17.76. To help connect students and other residents with these opportunities, the County continues to invest in its Leon Works initiatives including the annual Expo and Jr. Apprenticeship program.
Unemployment recovering from labor market shock of 2020
The shock to the local labor market in 2020 was broad but affected some industries and occupations more than others. There was lingering dislocation in the supply of and demand for labor among some industries and occupations, where supply of labor was adequate for some industries and occupations and scarce for others, while demand for labor may have been ample for some industries and occupations and meager for others. As of September 2021, Leon County's unemployment rate was 4.0%, down from 5.6% in September 2020. The average unemployment rate for Leon County area generally fell from 2011 to 2019. However, following the pandemic in 2020, the average unemployment rate for Leon County was 6.1%, up from an average of 3.1% in 2019. For the State of Florida, the average unemployment rate in 2020 was 7.7%, up from 3.1% in 2019. Initial claims for unemployment compensation in Leon County declined from 2011 to 2019 but reached an all-time high of 30,248 in 2020, with 66% occurring between April and July.
Increased new housing and improved home ownership stability
There were 681 permits issued in Leon County for new single-family (detached and attached) homes in 2020, the most since 2017 and nearly 10% higher than the 2015-2019 annual average of 620. Unincorporated Leon County accounted for 66% of permits; the City of Tallahassee, 34% of permits. The value of commercial permits issued for new construction in 2020 totaled $86.7 million.
As shown in the following table, mortgage foreclosure cases decreased by 59% in 2020 when compared to 2019. However, the statewide suspension of mortgage foreclosures by executive order from April through September skewed the 2020 total. Despite the executive order no longer being in place, foreclosures have remained relatively low. The total number of mortgage foreclosures in January-September 2021 was down 80% when compared to the average during January-September 2015-2019.
Likewise, there has been a decline in the number of mortgage forbearances, which lets borrowers miss mortgage payments without immediate penalty for up to six (6) months. Since July 2020, the forbearance rates for the Tallahassee metro area have decreased 13 months in a row (from 6.5% to 2.9%), according to the Federal Reserve Bank of Atlanta.
Table #4 – Leon County Mortgage Foreclosure Cases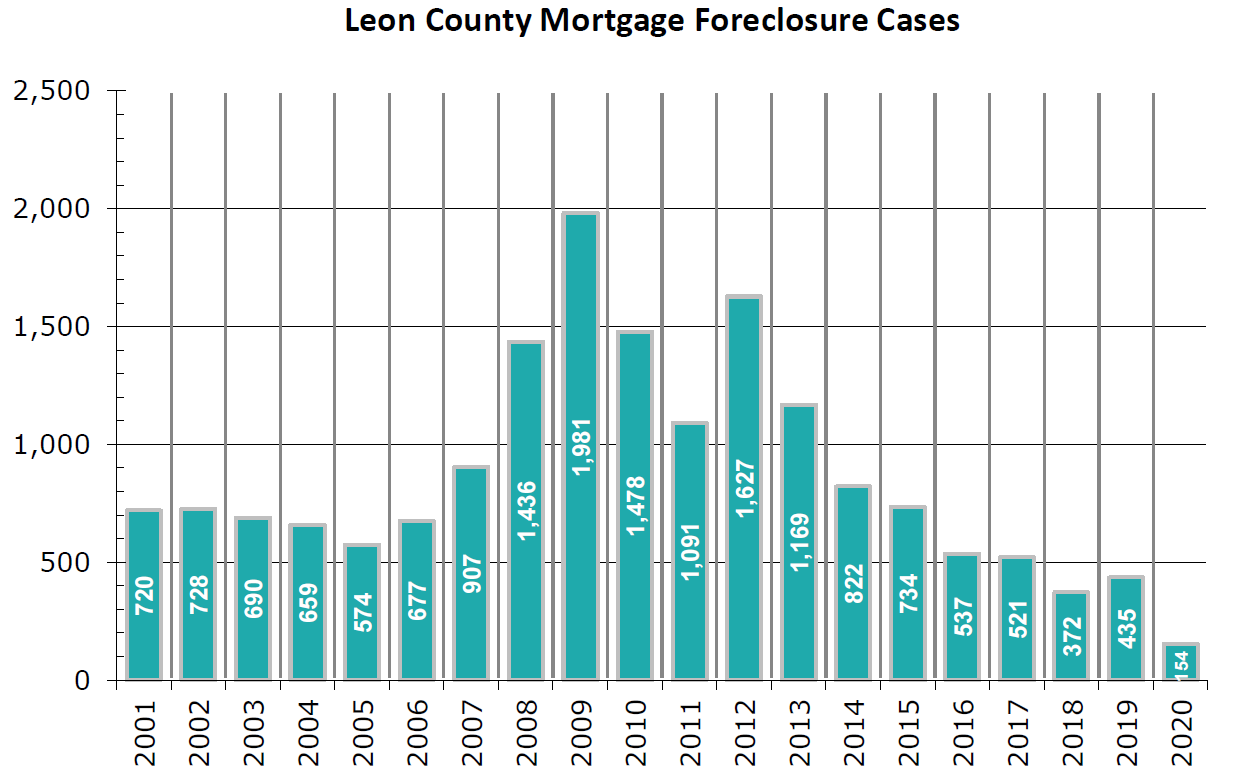 Rebounding commerce
As shown in the following table, from 2010 until 2019, taxable sales had increased in Leon County on average by 3.3% per year. However, following the pandemic in 2020, taxable sales decreased by 7.9% when compared to the previous year. More recent data indicates that local commerce is rebounding. In 2021, taxable sales for January through August in Leon County were 20% higher than the January-August average during 2015-2019.
Table #5 – Comparison of Taxable Sales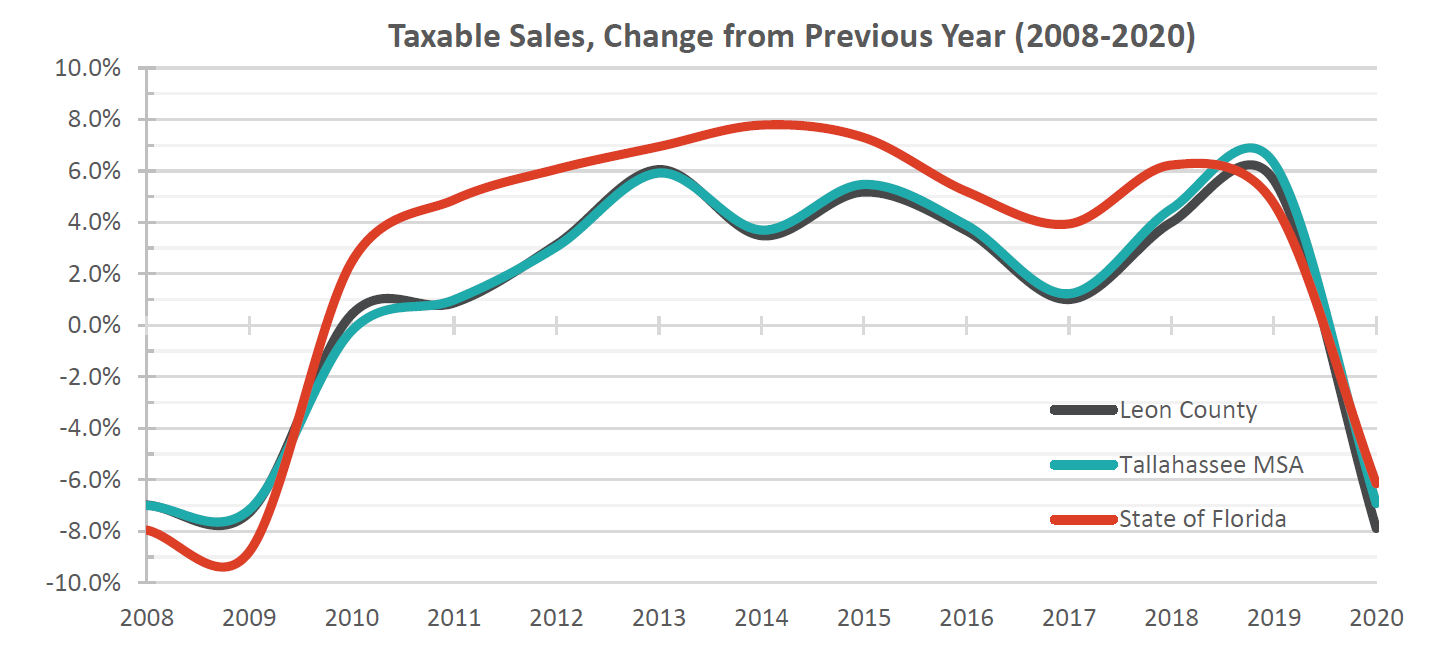 Stable GDP growth
In 2020, the Tallahassee Metropolitan Area's (MSA) Real Gross Domestic Product (GDP) was $15.5 billion, down -2.6% from 2019, less than Florida's Real GDP decline of -2.8% in 2020 and less than the overall -3.4% decline for the US. In 2020, the Tallahassee MSA had the 13th largest Real GDP among Florida's 22 metro areas. According to the Bureau of Economic Analysis, the full economic effects of the COVID-19 pandemic cannot be quantified in the regional GDP estimates, because the impacts are generally embedded in source data and cannot be separately identified. Since 2011, GDP growth in Tallahassee has averaged 0.5% annually, ranging from a low of -2.6% (2012-2013) to a high of 3.4% (2016-2017). Historically, private industry has accounted for 66% of the MSA's GDP with 34% attributable to government. Strongest gains in recent years have been in the areas of health care, retail trade, finance and professional and business services.
Stable local college enrollment
After peaking at 70,000 students in 2011, enrollment at the three (3) largest schools of higher education (Florida State University (FSU), Florida Agriculture and Mechanical University (FAMU), and Tallahassee Community College (TCC)) has stabilized at 64,000-65,000 since 2013. While enrollment at TCC and FAMU has declined since 2015, FSU's enrollment has increased by 5% in the past five (5) years.
Table #6 – Fall Enrollment at Area Institutions of Higher Learning

Assessment of State facilities
The 2017 Leon County Property Portfolio Study prepared for the Florida Department of Management Services (DMS) by Savills Studley Occupier Services analyzed aging government facilities, infrastructure, and expiring building leases in Leon County, with recommendations to the Legislature regarding how to manage these properties. The DMS study was a special report and has not been revised or updated since 2017. Recommendations included: 1) transformation of 750,000 rentable square feet of the owned portfolio through major modernizations and renovations; 2) addressing ADA deficiencies in buildings of long-term strategic value to the State; 3) consolidation of State-owned facilities into a more compact, efficient footprint downtown, at the Capital Circle Office Complex (CCOC), and in other areas of Leon County; 4) creation of a new corridor downtown for private-sector or higher education development through the disposition of inefficient, aged, but valuable properties; and 5) reduction of private leased space by more than 350,000 SF. For implementation, in 2019 DMS requested funding to update the CCOC Master Plan, with agency programming money to reassemble uses in several CCOC buildings more efficiently.
Since the aforementioned 2017 Leon County Property Portfolio Study, there have been several notable State facility changes. Since 2013 the State of Florida has also relocated 11 agencies from the Northwood Shared Resource Center (Northwood Mall) which has recently been demolished for the construction of the new Tallahassee Police Department Headquarters campus. Impacted agencies were relocated to state-owned facilities at the Capital Circle Office Complex, incorporated into other existing state facilities, or signed agreements to occupy existing office facilities throughout Tallahassee including the Kroger Office Center, 2601 Blairstone Road (260,000 SF). Other recent changes include the leasing of spaces in the Centre of Tallahassee for the Florida Department of Children and Families (230,000 SF), the Florida Department of Health (100,000 SF), and the Florida Department of State (29,000 SF outparcel). Additionally, in 2019, the Florida Department of Transportation (62,301 SF), Florida Department of Fish & Wildlife Conservation Commission (FWC, 60,625 SF) and Florida Division of Retirement Services (37,994) moved into newly constructed office space adjacent to Tallahassee's VA Medical Center near the intersection of Blair Stone Road and East Orange Avenue.
Pursuant to §§ 216.052, 253.0325, and 253.87 Florida Statutes (F.S.), The Florida State Owned Lands and Records Information System (FL-SOLARIS) is implemented by the Department of Environmental Protection (DEP) in collaboration with DMS to record and maintain the inventory of real estate properties (including both land and facilities) that are "owned, leased, rented, or otherwise occupied" by any state government entity. As of March 2021, Leon County had 29.5 million square feet of State-owned facilities. Educational uses by the universities and Tallahassee Community College accounted for 63% of the total; office uses, 24%; and all other uses, 13%. By agency, Florida State University operated about 46% of State-owned facilities in Leon County; Department of Management Services, 27%; Florida A&M University, 13%; and all other State agencies, 14%.
C. Financial Health of Leon County
External Trends:
Sales tax revenues have rebounded from the impacts of COVID-19
Federal Government American Rescue Plan Act (ARPA) Revenue Loss Replacement funding allowing for the rebuilding of reserves
Rating Agencies see the County's financial health as very good
Internal Trends:
Reduction in the use of fund balance to support operating expenditures
Future costs to provide services will continue to increase
Continued decline in debt obligations
The financial health of the County Government is sound. The County's deliberate and reasoned financial management and budgetary practices before, during, and after the Great Recession, and subsequent fiscal actions taken during the onset of the COVID economy have placed the County in a positive position to provide long-term stability for the citizens the County serves.
The Impacts of COVID-19
On March 13, 2020, during FY 2020, the United States declared COVID-19 a National Emergency. The first quarter of 2020 saw the United States enter a recession as governments issued stay-at-home orders to control the spread of COVID. These actions caused a major decline in the economy, as workers in service industries were laid off and corporate and consumer spending slowed.
In Florida, where sales taxes are a major driver of government funding, the recession caused state, and local governments to immediately see reduced revenues that fund government services. Leon County experienced revenue declines in the millions related to gas taxes, sales taxes, and tourism taxes.
In developing the FY 2021 budget, given the uncertainty of when the pandemic would end, and economic activity would begin to rebound, a significant decline in general revenues were contemplated in developing the budget. While property tax collections were not impacted in FY 2021, the other revenue declines required operating budget reductions, continuation of the hiring freeze, elimination of non-essential travel and training, as well as the deferral and elimination of capital projects.
Throughout the COVID pandemic, the Federal Government has provided historical fiscal support to individuals and businesses affected by the pandemic. Funding received through the Coronavirus Aid, Relief, and Economic Security Act (CARES) ($62.2 million) and the Emergency Rental Assistance Program (ERA) ($19.7 million to date, additional $11 million pending) allowed the County to provide for essential public health and safety expenditures related to COVID, direct assistance to individuals experiencing financial hardship, a broad range of human service needs, and critical economic relief to the local business community.
In March 2021, President Biden signed the American Rescue Plan Act (ARPA) into law, providing $1.9 trillion in economic relief and recovery assistance in response to the COVID pandemic, of which Leon County received $57.02 million. Specifically, ARPA was the first federal program that allowed local governments to use federal funding to replace revenues loss because of the pandemic. The total projected revenue loss for Leon County is $20.6 million, which includes all County revenues (state shared sales taxes, gas taxes, tourist taxes, property taxes, etc.).
A portion of the revenue loss replacement funds ($11.3 million) were used to augment the FY 2022 budget and fund capital projects and tourism expenditures during FY 2021:
$2.8 million through the operating budget to:

Eliminate the need to raise any fees or property taxes, maintaining the EMS MSTU, the stormwater non-ad valorem assessment and the fire fee at their current rates;
Assist in rebuilding reserves by reducing the use of fund balance; and
Lift the hiring freeze implemented last year

$3.6 million to ensure funding is available for the base maintenance capital program
$2.2 to address the significant impact to Tourism revenues through:

Enhanced marketing/promotion to support rebuilding the local tourism economy;
Funding for the Historic Train Station renovation to address significant industry-wide construction inflation cost increases; and
Funding to support on-going development of the Apalachee Regional Park

$2.7 million to address transportation and flood relief projects that were delayed or not funded because of the pandemic
The remaining $9.3 million is programmed in the FY 2023 budget to provide continued support for operating expenses ($2.8 million) and the capital improvement program ($6.5 million). Over the next several budget cycles, as the economy continues to grow, the proposed expenditure plan will facilitate gradually reducing budgetary reliance on revenue loss mitigation funding, and correspondingly replacing this funding with projected increased revenue collections (through half cent sales tax revenues, property taxes, etc.).
Revenues are beginning to rebound from the impacts of COVID
Property Taxes
The County does not control property values but rather the tax rate that is applied to the values provided by the Property Appraiser. For example, during the "Great Recession", with declining property values the County maintained the millage rate resulting in less property tax collections and correspondingly passing on property tax savings to the community. Conversely, as property values began to increase moderately, the County made a deliberate and planned decision to leave the millage rate at the current 8.3114, to allow the additional property tax revenue to begin to assist in covering the inflationary costs of providing County services without having to reduce program services and increasing the recurring revenue to the capital program.
The taxable value increase for FY 2022 is 4.05%, significantly less than last year's growth rate of 6.8%, due in part to a decline in commercial property values related to the impacts of COVID. The pandemic has had a significant impact on commercial leases, restaurants, and hotels, which also contributed to the slowing of taxable values. With the economy recovering and new building construction occurring, out-year property tax projections reflect maintaining the existing millage rate at 8.3144 with property values increasing to provide the necessary revenue growth to fund increases in operating expenses.
Other Revenues
Other major revenues such as Florida's half-cent, state shared revenue and local sales tax revenue in conjunction with the lifting of stay-at-home orders and increased consumer spending have rebounded from the precipitous decline in FY 2020 and have returned to pre-COVID collection levels.
However, gas taxes declined during the COVID-19 pandemic, and are still lagging pre-COVID collections. These taxes can only be used to fund the transportation maintenance and transportation capital paving programs. These taxes do not support the entire transportation program, which is subsidized by general revenue. The longer gas taxes lag in the recovery, the more general revenue will be needed to support this program.
Prior to COVID, gas taxes, which are consumption based (taxes are per gallon, not a percentage of cost), were only slightly increasing year-over-year due to better vehicle fuel efficiencies and an increase in the use of electric vehicles. Stay-at-home orders and their effect on commuting dramatically affected gas tax collections. Even with the phased economic reopening, gas taxes have not rebounded, indicating that telecommuting and changed driving habits are still impacting fuel consumption. This decline is projected to continue largely due to the possible future volatility in the market for crude oil, and the shift in consumers driving more fuel-efficient cars.
The tourism economy was decimated during COVD, which significantly impacted the Tourist Development Tax (TDT). TDT revenue declined by 33% in FY 2020 after the onset of COVID restrictions in April 2020, resulting in the Division of Tourism's Marketing/Advertising budget being drastically reduced by 48% in FY 2021. With the removal of stay-at-home orders and the availability of vaccines, TDT collection began to slowly increase in March 2021. As the impacts of COVID on travel began to subside, the County allocated $750,000 in ARPA revenue replacement funding to enhance Tourism's marketing/advertising efforts to rebuild the local tourism economy. While TDT revenue collections have not yet made a full recovery to pre-pandemic levels, out-year projections assume a gradual return to normal.
A rebounding economy in commercial and housing construction fueled by a low interest rate environment enacted by the Federal Reserve to combat the impacts of the COVID pandemic on the economy has caused a corresponding increase in permitting revenue. The additional revenues allowed the County to hire an additional Building Inspector in FY 2022 to maintain inspection timelines as building activity has increased. Building fees are expected to continue increasing modestly over the next five (5) years.
The Development and Environmental Permitting functions are funded by both fees and general revenue. An increase in site development/permitting revenue has allowed for a decrease in the general revenue transfer to support these functions by approximately 24% in FY 2022. General fund revenue is expected to increase incrementally in the next (5) five years to meet increased service demand.
Rating Agencies see the County's Financial Health as strong
Despite COVID's substantial implications for the economy and local government revenue sources, the County's actions have provided the necessary means to continue maintaining the County as a financially viable organization. As recognized by Moody's Investor Service in its's February 2021 annual release, the County's financial position was "very good" and maintained a Aa2 credit rating. Additionally, Moody did not see any material immediate credit risks to Leon County. These positive ratings have allowed the County to refinance outstanding bonds and acquire additional debt with extremely favorable low interest bank loans.
State Budget forecast continues to indicate nominal growth
Due to the economy largely returning to normal faster than expected, the annual forecast provided by the Office of Economic and Demographic Research (EDR) was adjusted upward in August 2021. Bearing any major shifts in the economy, as the world economy continues to adjust to the impacts of COVID, or other international crises, this upward trend will carry over to Florida local governments during FY 2022 and into FY 2023. Leon County will exceed pre-COVID collections sales tax related revenue this year.
Reduction in the use of Fund Balance to Support Operating Expenditures
Consistent with best governmental financial practices, Leon County Policy 07-2 "Reserves" establishes fund balance policy levels sufficient for cash flow and emergency purposes. As property tax revenues are received two (2) months after the start of the fiscal year, fund balances allow the County adequate cash flow to eliminate the need for short-term borrowing in October and November to cover payroll and required budget transfers to the Constitutional Officers.
The FY 2022 budget includes a reduction in the use of fund balance from $1.84 million to $800,000, the lowest level since FY 2010 or more than a decade. If the $2.8 million in ARPA revenue replacement were not available to assist in balancing the budget, additional fund balance would have been necessary to support the budget, or expense reductions would have been required. Using the ARPA funds to supplement the budget allowed the County to maintain and build reserves for future needs such as one-time capital projects.
The County's general revenue fund balances have historically grown at a rate of $4 to $5 million a year. This is due to State budget requirements that counties budget 95% of expected revenues, and the nominal under expenditure of County and Constitutional Officer's budgets. Hence, $4 to $5 million has not been an unreasonable amount to budget given the constraints placed on County resources. However, when this level of fund balance is used to offset the operating budget ($4 to $5 million), fund balances do not grow year over year, and stay at the same level.
When fund balance use is reduced (like in FY 2022), fund balances can start to grow. When the fund balances are allowed to grow, they accumulate, and can be used as part of a "fund balance sweep" to fund one-time capital projects (i.e. Consolidated Dispatch Center and Branch Libraries). Alternatively, without general fund balance accumulation, the County would need to consider issuing debt to support future capital project needs.
Future Costs to Provide Services will Continue to Increase
The cost to "open the doors" every year to maintain current service levels provides the baseline annual financial impact for County government. These inflationary costs include items such as employee benefits (state mandated retirement, health care, performance pay increases), Medicaid payments, utilities, and material costs to maintain the County's infrastructure. Normal growth in expenses includes Leon County Government and Constitutional Officers personnel cost (e.g. retirement, health insurance), contractual increases, mandatory state payments, and materials and supplies. To offset these increases, the County relies on average revenue growth in property, state shared and local sale taxes, fees, and gas taxes. This revenue growth allows Leon County government to avoid increasing taxes to cover expense growth necessary to maintain adequate service levels. While the economy continues to rebound from COVID, total County revenues are still below pre-pandemic levels or are growing at rates slower than normal.
Operating
Even with these post-COVID gains, cost increases in the future will require staff to remain diligent in evaluating the budget for opportunities to work more efficiently within existing resources. With an improving economy, the costs of construction, services and operating cost impacts will continue to increase. For example, as the County continues to significantly increase park acres available to the public (Apalachee Regional Park, St. Mark's, Broadmoor Park, two (2) dog parks, etc.), additional positions will be required to maintain adequate service levels. Likewise, the FY 2022 budget included increased costs associated with contractual services and repairs and maintenance, the Consolidated Dispatch Agency, and the addition of ten new positions for the Sheriff. These costs will continue to increase annually over the next five (5) years.
Capital
The capital budget is focused on maintaining the County's core infrastructure, including road resurfacing, stormwater facilities, parks and greenways, technology infrastructure and upgrades to the detention facility. In addition, the capital budget includes new infrastructure projects such as the construction of new park facilities, major building improvements, road and sidewalk improvements and heavy and light duty vehicles. Ideally, to provide adequate funding to the capital program, annual recurring general revenue should be between $9.0 to $11.0 million; this amount continues to increase as construction inflation grows. Following the great recession, the County had taken deliberate budgetary actions, and over several years increased the general revenue support for capital to $7.3 million by FY 2020. However, because of the COVID pandemic and the associated negative fiscal impacts, the general revenue support was reduced to $5 million in FY 2021.
Given the continued financial impacts of the pandemic, the FY 2022 budget maintained the general revenue support at $5.0 million. To ensure the County's aging infrastructure is adequately maintained and funded, the FY 2022 budget included $3.6 million in ARPA funding and programmed another $6.59 million in FY 2023. Without the ARPA funding, reductions in the capital program would have been necessary. Out-years reflect revenues returning to normal growth and the general revenue transfer increasing to $12.97 million by FY 2026.
Emergency Medical Services
At the June 10, 2014 FY 2015 Budget Workshop, the Board approved a long-term financial plan for EMS to drawdown available dedicated EMS fund balance until such time that the fund balances approached a level consistent with County policy. With the approval to drawdown the fund balance, the Board understood that an increase in the EMS MSTU might be needed in FY 2020 or FY 2021. Instead, during the FY 2020 budget process, the Board adopted a multi-year fiscal plan that allocated $4.1 million in debt services savings to avoid near term tax and fee increases for Fire and Emergency Medical Services. The EMS funding plan included a general fund transfer of $2.0 million per year beginning in FY 2021. Subsequently, due to new Medicaid funding support provided through the Agency for Health Care Administration, the fund did not need the entire $2.0 million transfer in FY 2021 or FY 2022, only requiring $792,616 and $1.1 million respectively. As the amount of Medicaid funding is uncertain, general revenue support may need to be increased during future budget cycles unless other changes are made to funding EMS, such as increasing the MSTU.
In recent years, Leon County EMS (along with providers nationwide), have experienced a paramedic shortage which has been further exacerbated by the COVID pandemic. The County has implemented several strategies to mitigate these effects including providing shift differential pay, shift incentive stipends and the creation of a County sponsored Emergency Medical Technician (EMT) to Paramedic Trainee Program. Additionally, the EMS Division and Leon County Human Resources are in the process of conducting an extensive update of the EMS Pay Plan. Based upon this evaluation, additional funding needs that may be warranted to maintain the County's long-term competitiveness in recruiting and retaining key talent in the EMS Division will be presented to the Board as part of the FY 2023 budget process.
Debt obligations
A large part of the County's positive financial health and strong financial ratings can be attributed to the low debt level and high liquidity ratio. The County's debt level accounts for 1.7% of the total County budget. The liquidity level is slightly more than 3:1; meaning that the County has more cash than needed to cover these liabilities. The International County/City Managers Association recommends a minimum of a 1:1 ratio of liquidity.
The County established a FY 2017 – FY 2021 target of reducing debt by 60%. During this period, Leon County exceeded this target and reduced outstanding debt service by 69% from $57.2 million to $17.7 million. This reduction considers additional debt issued to purchase the Sheriff Helicopter. Subsequently, to take advantage of historically low interest rates and to avoid large variances to the capital budget, additional debt service was financed for Building Energy Savings improvements, the Supervisor of Elections Voting Operations Center and the replacement of the 800 MHz radios. Beginning in FY 2022, this increased the outstanding debt to $39.2 million. Over the next five (5) years the debt service will be reduced by $22.4 million or 57%. In FY 2016, debt service was 3.6% of the annual budget compared to 1.7% in the current FY 2022 budget.
D. Community Engagement
External Trends
As millennials age, they are becoming more civically engaged.
Social media misinformation and disinformation jeopardizes the civic landscape.
Sustainable and long-lasting engagement with neighborhoods and community members will become even more important as the County engages citizens as co-creators.
Increasing community volunteerism and engagement.
Internal Trends
Information sources will further multiply and diversify.
As millennial age they are becoming more civically engaged
Leon County's millennial generation (people born between 1981 and 1996) have lived through, advanced careers in, and started families during a global pandemic and one of the most active and meaningful
two (2) years of civic engagement the country has seen. To this end, millennials are seeking civic engagement in new and different ways compared to previous generations. According to a Points of Light research report:

Almost 50% of millennials believe more in civic engagement now than before the pandemic, 69% are more likely to volunteer, and 85% think people should help their community and the world.
With few exceptions, "spent time learning more about the issue" was the number-one action millennials took to support social issues followed by "used social media" and "changed purchasing."
Millennials believe companies should be actively involved in social issues, and two-thirds visit corporate websites at least somewhat often to learn about their efforts. Black American males, especially, think companies should meet with consumers about the effects of their products and services.
Respondents said that the top issues the country must address post-pandemic are healthcare (29%), criminal and social justice (24%), education (21%), environment/climate (21%) and financial recovery efforts from COVID-19 (17%).
Previously, the County engaged millennials through organized campus activities such as The Longest Table events in coordination with Village Square and the FSU Big Event. While those events will continue, millennials are no longer on campus, so they need to be engaged in civic discourse and service using different methods. As outlined in a later section, the County will continue to invest in newer social media outlets such as Instagram, Snapchat and TikTok while complying with all Florida sunshine laws. Further, the County will leverage its outlets to encourage millennials to serve with and through VolunteerLEON. Because millennials see large social issues through a personal lens, VolunteerLEON will spend time engaging with millennials who serve now and use their stories to highlight the personal and intrinsic reward of service and engagement.
Lastly, the County will continue its efforts to engage the next generation of community leaders at Florida State University, Florida A&M University, and Tallahassee Community College.
Social media misinformation and disinformation jeopardizes the civic landscape
According to a Pew Research Center poll, social media use has remained level over the past five (5) years, with roughly seven-in-ten Americans saying they use any kind of social media site. The majority of Americans say they use YouTube and Facebook, while use of Instagram, Snapchat and TikTok is especially common among adults under 30. As millennials continue to advance in careers, start families, and look to their local governments for engagement, the County needs to further leverage more recent social media outlets while maintaining a strong presence on established accounts like Facebook.
Further, throughout the coronavirus pandemic, public health officials and communications experts have pointed to social media as a source of misinformation and disinformation on a range of topics, but specifically vaccinations. According to a recent de Beaumont poll, a correlation was drawn between social media use and vaccination status. Specifically, those survey respondents who said social media was their primary source of information would most likely be unvaccinated and they would further say that social media reinforces their reluctance to be vaccinated. Lastly, nearly 70% of those polled said they use social media to find COVID-19 information, no matter their vaccination status.
Social media misinformation has prompted Leon County to adopt a proactive communications model, one that seeks out concerned citizens as well as possible misinformation to solve the issue at hand. In 2022, the County is launching the Zencity listening platform, a social media listening tool that accesses publicly available posts and conversations to reach citizens who may not contact the County directly for assistance. The focus will allow County teams to monitor trends and respond to community needs in a personal, high-touch and high-tech manner.
Since 2013, Leon County has made significant strides in public outreach and engagement with accounts on Facebook, Twitter, Instagram, LinkedIn, and Pinterest. During this time, the County has added tens of thousands of followers and posted daily to reach millions of people locally and across the globe. However, the County must continue to reach people in new and engaging ways across various platforms and with in-person events that are streamed and shared. The COVID-19 pandemic has revealed a need to better listen to and engage with misinformation on a variety of topics, but most certainly those concerning public health.
Sustainable and long-lasting engagement with neighborhoods and community members will become even more important as the County engages citizens as co-creators
The County achieves its best and longest lasting results when a project or initiative involves citizens as co-creators. The County continues to engage citizens in all aspects of co-creating our community, including:
Veteran-led volunteer efforts in support of Operation Thank You;
Engaging homeowners and area businesses who give their time during Leon County's 9/11 Day of Service;
Placemaking efforts, such as the County's Annual Neighborhood Recognition Program; and
Numerous citizen committees and advisory boards.
The County will continue to create opportunities for the community to engage with County representatives in support of placemaking and community building to enhance public life and service delivery.
Increasing community volunteerism and engagement
VolunteerLEON leads coordinated and effective community volunteerism efforts that promote a culture of collaborative decision making and equitable access to civic participation. Volunteerism allows County residents of any cultural or educational background to participate in a meaningful service role and make a difference.
While volunteerism is at a historic low, the remaining volunteer positions with healthcare facilities and critical meal delivery to seniors are now more critical than ever. However, as volunteer opportunities continue to reopen, VolunteerLEON will substantially increase volunteerism outreach, service positions, and training for volunteer managers.
As the community's first-stop shop for connecting interested volunteers to volunteer opportunities with local organizations and nonprofits, VolunteerLEON will leverage partnerships, address gender-related volunteering inequity, address barriers faced by marginalized groups in volunteering, and invest in volunteer data collection and measures. VolunteerLEON will:
Promote and maintain the County's online volunteer portal to find opportunities and organizations in need;
Grow the County's volunteer manager training by adding modules and seeking diverse candidates from community organizations;
Leverage university, school, and other existing support networks to develop volunteer engagement opportunities and best practices; and
Organize various ways to recognize and value volunteer work throughout the community.
Information sources will further multiply and diversify
To reach citizens across multiple and diverse platforms, the County continues to create unique opportunities to present information. In the last few years, the County began using platforms such as Nextdoor and Instagram to share information with citizens about events and services. We will also soon join newer social media outlets such as Snapchat and TikTok to reach the next generation of adult citizens, Gen Z (people born between 1997 and 2012). According to a recent Pew Research Poll, a majority of 18- to 29-year-olds say they use Instagram (71%) or Snapchat (65%), while roughly half say the same for TikTok. Utilizing these platforms will allow us to reach Gen Z as they finish college and begin to enter the workforce over the next five (5) years.
Additionally, the County is now making select meetings, programs and events available to citizens both in person and virtually to create opportunities for more equitable and accessible engagement with the community. Recordings of these programs are then made available on County Youtube and Facebook pages so citizens can watch at a time that is most convenient for them. While such efforts require technology and digital communications training and coordination, these projects put the subject matter experts in charge of certain powerful tools to reach their audiences.
E. Emergency Medical Response
External Trends:
COVID-19 Pandemic
National healthcare and paramedic labor shortage
Expanding medical and technological advances available to paramedics
Expeditious transport of patients with specific conditions to appropriate hospitals continues to reduce mortality and morbidity
Integration of EMS into the healthcare system and public health services
Telemedicine advancements may expand the scope and availability of services
Internal Trends:
Increased requests for ambulance responses
Leveraging partnerships with community stakeholders to improve services
Life safety education programs
EMS continues to be a nationally recognized leader in setting the standard for pre-hospital emergency care and life safety education programs. The Division continues its tradition of being the longest continuously accredited government-operated ambulance service in Florida meeting the standards of the Commission on Accreditation of Ambulance Services. In 2018, EMS was recognized as the National EMS Provider of the Year by the National Association of Emergency Medical Technicians. The EMS Critical Care Transport team became the first ground team in the Country to have all members achieve certification through the International Board of Specialty Certification. Emergency Medical Technician Lee Kendall was named the 2021 Florida Department of Health EMT of the Year for his clinical excellence, participation in community education programs and service his service to community projects. Major Sally Davis was recognized as one (1) of the 25 Women You Need to Know in 2021. Also in 2021, Lt. Nichole Harris was recognized by the American Legion Department of Florida as the state-wide Paramedic of the Year. The Division continued to deliver exceptional clinical care to victims of cardiac arrest, heart attack, stroke, trauma, and serious infections by achieving clinical outcomes better than performance national standards. EMS is currently addressing the following emerging trends in order to continue to be a nationally recognized leader in setting the standard for pre-hospital emergency care.
COVID-19 Pandemic
The COVID-19 Pandemic has challenged the delivery of healthcare, including EMS, throughout the world. In addition to responding to record numbers of requests for EMS services, EMS has assisted in the response to the Pandemic by providing support with its Highly Infectious Disease Patient Transport Team, by assisting at COVID testing locations, by providing COVID immunizations to thousands of citizens, and through the creation of alterative response and treatment protocols to help reduce the number of patients at hospitals and make resources available for the sickest patients. Throughout the Pandemic, EMS has proven to be an adaptable, capable, and reliable healthcare asset that does more than respond to medical emergencies.

National healthcare and paramedic labor shortage
For the past few years there has been a well-documented national paramedic shortage. The Florida Department of Health state-wide EMS Advisory Council appointed an Ad Hoc Paramedic Storage Committee which found that during the 10-year period between 2007 and 2017 state-wide there was an 18% reduction in the number of licensed Paramedics while during that same timeframe there was over a 52% increase in the number of ambulance responses. The COVID-19 Pandemic has created unprecedented healthcare staffing challenges and has exacerbated the Paramedic shortage. Employment opportunities for Paramedics have expanded into primary healthcare, public health, and hospital roles further accelerating competition and labor market pressures. The County has taken numerous steps to mitigate the impact of the Paramedic shortage over the past several years including: developing a professional development plan, increasing pay, implementing alternative scheduling options, enhancing shift differentials, and focusing on creating an environment that facilitates long-term EMS careers including providing resources to facilitate the mental wellbeing of members. However, the challenge of recruiting and retaining licensed Paramedics has required the County to frequently utilize mandatory overtime and to modify ambulance schedules which impacts ambulance deployment and results in additional pressures on the workforce and EMS system. To continue to be successful, the County will need to explore ways to further enhance the working environment and implement strategies that continue to make the organization an employer of choice among Paramedics. In addition, strategies such as implementing an Emergency Medical Responder and/or Emergency Medical Technician (EMT) program in local high schools and sponsor EMTs to become Paramedics will need to be considered.
Expanding medical and technological advances available to paramedics
EMS has continued to provide clinical excellence by incorporating current industry trends and scientifically supported best practices into its service delivery. The number and complexity of medications and technologies available to paramedics continues to proliferate resulting in the need for a more educated and technically competent workforce that can incorporate evidence-based practices in the field. This has presented additional challenges related to quality improvement and ensuring effective EMS service delivery. The County has participated in, conducted, and contributed to several research studies investigating the effectiveness of EMS medical services. In addition, the County's EMS Medical Director regularly incorporates evidence-based medical practices into the medical protocols. Further enhancements of pre-hospital services to include expanded telemedicine, whole blood administration, and ultrasound, among other treatments, will be evaluated in near-future service delivery.
Expeditious transport of patients with specific conditions to appropriate hospitals continues to reduce mortality and morbidity
Evidence continues to support the emphasis on the importance of expeditious ambulance transport to the medical facility most capable of handling the patients' condition as opposed to advanced life support first response services and on scene patient management. While the immediate delivery of life-saving care is vitally important in specific situations, there are a number of conditions where less field stabilization and immediate transport for definitive care is indicated. EMS continues to implement medical protocols that are designed to provide guidance on transporting patients to the medical facility most capable of caring for the patient and decreasing the time it takes to get the patient to the treatment center within the facility. For instance, EMS takes most heart attack patients directly to the hospital's cardiac catherization lab and bypass the emergency department to get the patient to definitive care quicker. The development of systems of care in cooperation with local hospitals and the medical community have improved patient outcomes and continues to expand. To continually improve service delivery, EMS participates in the multi-disciplinary quality improvement programs related to stroke, heart attack, sepsis, and trauma with the local hospitals.
Integration of EMS into the healthcare system and public health services
Value based, patient outcome-centered, healthcare continues to expand following implementation of these tenants under The Affordable Care Act. The Center for Medicaid and Medicare Services has recently begun a pilot program known as ET3 to explore alternative care options provided by EMS services. Mobile Integrated Health Care and Community Paramedic programs continue to expand across the Country in support of traditional healthcare systems. This has created uncertainty in fee-for-service payments received for EMS services and the future of fully-funding EMS systems. The County continues to leverage partnerships with stakeholders in providing community service programs to patients with an identified need. EMS has always had a strong partnership with the Florida Department of Health in Leon County and aided with various immunization clinics for the past several years. The COVID-19 Pandemic presented additional opportunities for EMS to provide traditionally public health services including assisting with infection control programs at long-term care facilities, assisting with disease testing and monitoring, and administering immunizations to citizens.
Telemedicine advancements may expand the scope and availability of services
The use of telemedicine and telehealth components has expanded rapidly over the past few years as technology has further improved and the service abilities have been accepted by the public and the medical field. The COVID-19 Pandemic has helped to accelerate the use and acceptance of telemedicine as a legitimate way to seek healthcare. It is likely that the further expansion of telemedicine will impact EMS service delivery by both limiting the need for patients to seek EMS assistance because of expanded access to a medical provider through telemedicine and by EMS utilizing telemedicine services to deliver services to the community. Around the world, EMS systems continue to evaluate and test the use of telemedicine into daily practices. A challenge is finding enough physicians and medical providers to provide the telemedicine services directly to patients and as a part of the EMS system. EMS is well positioned to be a leader in the integration of telehealth services and currently has such services available during critical care transports and for other specialized medical direction activities.
Increased requests for ambulance responses
In FY21, the EMS Division experienced its busiest year with 49,052 requests for ambulance responses which represents over an 80% increase as compared to the first full year of service in 2004 when the Division responded to 27,240 requests. Across the Country EMS systems continue to experience a sharp rise in the number of requests for service as the population ages and as individuals rely on EMS as a means for accessing the healthcare system. The County has implemented solutions to address this issue in various levels and include everything from adding ambulance coverage, to modifying ambulance response protocols, and continuing to evaluate various aspects of alternative response models including Community Paramedic. In addition, the response to individuals in mental health crisis continues to evolve and impact EMS responses as the community works towards providing mental health resources earlier in the crisis. The County is continually evaluating best practices implemented in other communities which includes the use of an internationally accredited nurse triage system as a part of low acuity 9-1-1 calls for service; implementing basic life support ambulances for specific call types; and, other alternative response systems such as telemedicine.
Leveraging partnerships with community stakeholders to improve services
Partnering with community stakeholders to assist patients in need is a vital aspect of successfully providing EMS services to the community. EMS is engaged in improving patient care by participating in the Tallahassee Coalition for Coordinated Care and is engaged in improving the medical response capabilities of the community by participating in the Big Bend Healthcare Coalition and as a regional provider in the Florida Department of Health Infectious Disease Transport network. EMS has a social services referral partnership with Big Bend 2-1-1 where patients with an identified need are referred to 2-1-1 and offered assistance through a community partner. The Division continues to operate a Tactical Medical Program to provide medical support to the Sheriff's Office Special Weapons and Tactics unit; provides Critical Care Paramedic transport services to acutely ill patients; provides low-cost AEDs to organization and business throughout the County; partnered with local hospitals and medical providers to improve heart attack, stroke, and trauma outcomes and develop systems of care the exceed national standards.
Life safety education programs
The Division continues to engage citizens through various life safety education programs designed to decrease injuries and illnesses and improve survival rates. Thousands of citizens are trained in CPR, AED use and stop the bleed annually; hundreds of child safety seats are inspected and installed properly; and hundreds of public education events are conducted. The pandemic required the County to modify CPR training where CPR Home Edition was delivered through a partnership with the County Library system using technology. The Division regularly provides medical support for veterans participating in Honor Flight Tallahassee's one-day trip to Washington D.C. EMS has a history of working alongside organizations for the betterment of the care of citizens suffering from dementia through the development of training materials and the training of EMS members.
F. Public Safety
External Trends:
A recent increase in property and violent crimes following a steady decline in previous years.
National and local efforts for bail reform.
Impacts of the COVID-19 Pandemic on the criminal justice system.
Internal Trends:
Increased reliability on pre-sentence community supervision.
Extended periods of pre-sentence supervision.
Recent increases in property and violent crimes following a steady decline in previous years.
According to crime statistics from the Florida Department of Law Enforcement, as reported by the Tallahassee Leon County Office of Economic Vitality, between 2016 and 2019, Leon County's property and violent crime rates steadily declined. In 2019, Leon County's property and violent crime rates decreased 33.5 percent and 21.9 percent respectively since 2016. This compares to the respective statewide decline of 20.9 percent and 12.9 percent.
In 2020, Leon County's property and violent crime rates increased from 2019 levels; a 30.1 percent increase in property crime rates and a 5.2 percent increase in violent crime rates. As of 2020, the statewide rates of property continued to decline while violent crimes increased marginally by .44 percent from 2019 rates. The trends since 1995 for both categories are shown below. Leon County's crime rates remain below the peak levels of 1995. Of note, in 2019, Leon County saw the lowest rates of property and violent crimes since before 1995.
Tables #7 & #8 – Comparison of Property Crime & Violent Crime Rates



National and local efforts for bail reform.
The reliance on alternatives to incarceration has increased substantially in recent years as national and grassroots advocacy groups champion for the non-monetary release of pretrial defendants in lieu of monetary bonds or pretrial detention. In October 2017, the American Civil Liberties Union (ACLU) filed lawsuits against several criminal justice entities in Florida, including the Leon County Sheriff, on behalf of indigent pretrial inmates contesting the unlawful detention of people based solely on their inability to afford the monetary bond set in their case. Although the case involving the Leon County Sheriff, Knight v. Sheriff of Leon County, was ultimately dismissed by the federal courts on March 29, 2019, the Chief Judge of the Second Judicial Circuit revised the Administrative Order (Uniform Bond Schedule and Pretrial Release Procedures) which govern the processes and procedures for pretrial release. The revised and new order went into effect on April 15, 2019. The orders intend to reduce the number of people detained in custody because they cannot afford the monetary bond imposed as a condition of their release. As anticipated, utilization of the Supervised Pretrial Release Division increased in the following months as the courts relied less on monetary bonds for pretrial defendants. As of February 2020, the number of individuals assigned to the SPTR Division increased 26% from a monthly average of 626 to 786 individuals supervised in the community while their case(s) were pending in the courts.
Impacts of the COVID-19 Pandemic on the criminal justice system.
As the utilization of the SPTR Division continued to increase due to bond reform efforts, the COVID-19 Pandemic, created a secondary wave of reliance on pre-sentence community supervision as it became necessary to reduce the population of correctional institutions around the country for the health and safety of incarcerated individuals. In March 2020, through a collaborative effort of law enforcement, the State Attorney's Office, defense attorneys, and the judiciary the population of the detention facility experienced the lowest population in more than 20 years. Over a short period, the detention facility's population was reduced from 1,029 in March to 860 in May. A low not previously experienced since December 2000 when the average population was 843. However, the decline was short-term and due to the ongoing impacts of COVID-19 on the criminal justice process, as of December 2020 the detention facility's population again exceeded 1,000 individuals in custody and as of August 2021, the population had increased to 1,146. In addition to the population increase in the LCDF, the number of pretrial defendants supervised by the SPTR Division increased 37% to an average of 1,000 individuals on pre-sentence community supervision. The following table illustrates the population trends of the detention facility and the SPTR Division since 2016.
Due to the consistently high population in the LCDF, at the October 12, 2021 meeting, the Board requested a workshop for a more in-depth review and discussion on the causes of the detention facility's population including the impacts of monetary bond for indigent defendants, misdemeanor marijuana offenses, and reentry and alternatives to incarceration. Subsequently, the Board approved the workshop to be held on March 22, 2022.
Tables #9 – Leon County Detention Facility & Supervised Pretrial Release Division Population Trends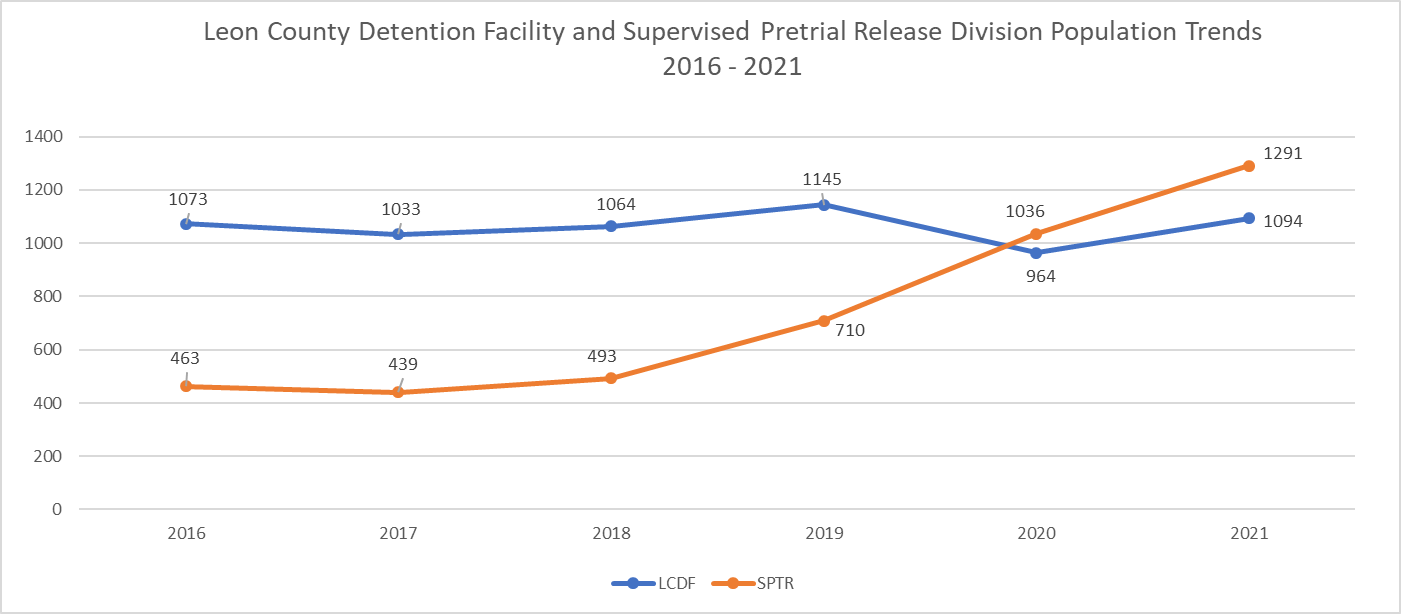 Extended periods of pre-sentence supervision.
In addition to increased assignments to SPTR, the supervision periods were prolonged due to the suspension of court hearings as a result of COVID-19. Based on the nature of court hearings which require in-person contact, many types of court proceedings were suspended to safeguard the constitutional rights of the defendant. While some court events were able to continue through technology for remote conferencing these operational changes significantly slowed the rate of case dispositions.
The operational changes to court proceedings had a two-pronged effect on OIDA. In addition to increased assignments to pretrial supervision, defendants remained under pre-sentence supervision for extended periods. In FY 2021, defendants were supervised an average of 22 days or 16% longer than in FY 2020. The changes to court operations also affected the Probation Division as fewer cases were being disposed of, resulting in a 70% decrease in post-sentence assignments from March – September 2020 than the same period in 2019.
The Office of Intervention and Detention Alternatives (OIDA) has remained steadfast in providing supervision for pre and post-sentenced offenders while they live and work in the community. The department continually monitors and reallocates trained staff to ensure proactive community supervision and divert individuals from incarceration.
G. Tourism Development

External Trends:
Recovery from the COVID-19 pandemic
Changing expectations of travelers
Growing economic impact of youth and adult sports competitions
Continued new hotel development & increased demand for home-sharing lodging
Internal Trends:
Increased tourism alignment with destination/community development agencies
Increased focus on maximizing and leveraging limited promotional budget
Growing demand for TDT funds to support community events and festivals
Recovery from the COVID-19 pandemic
Downs and St. Germain Research, Tourism's research firm of record, reports COVID-19 recovery for the Tourism Industry will be uneven and have long-term impacts. Tourism has been impacted particularly hard by the pandemic and the recovery time will be drawn out, especially if there is another spike and/or variant.
Due to the pandemic, it is anticipated that many tourism entities (such as airlines, hotels, technology providers) will consolidate or develop alliances.
While there is strong interest to return to face-to-face meetings and conferences, the return of business travel and conferences may be prolonged as managers will now need to go to greater lengths to justify the travel costs of face-to-face meetings if hybrid/virtual options exist.
The labor shortage is severe in the Tourism/Hospitality Industry resulting in reduced level of service, operating hours and/or limited offerings as both COVID-19 and decreasing interest in young people to enter/re-enter the tourism industry will continue to impact the industry in the short- and long-term. This will accelerate public-private partnerships to address workforce development. FY2021 local employment data from Downs & St. Germain Research currently report 12,868 tourism/hospitality jobs, an 8% gain over FY2020 but still significantly below the pre-pandemic level of 16,150 jobs in the industry in 2019.
While Florida overall recently experienced an uptick in tourism spending (varying significantly between coastal and inland destinations) it was largely due to pent-up demand and other destinations being closed to visitors due to the pandemic and is likely not sustainable moving forward.
Changing expectations of travelers
Skift travel research, a global travel industry intelligence firm, indicates 9 out of 10 travelers crave more authentic experiences and want more personalized information and interactions while in the destination, and are travelling to enrich their personal wellbeing. The Division continually cultivates key niche marketing initiatives to speak to both the strengths of the destination while targeting potential visitors with these niche interests. The new Leon County/Tallahassee destination mobile app and Cascades Visitor Information Center serve visitors in-market to enhance their experience. Further, authenticity has taken on a new meaning for travelers relating to diversity. Travelers expect to see themselves in destination marketing messages and images. Promoting diversity and inclusion of all potential visitor populations is good business and it is essential for the future growth of visitors to the destination.
Growing economic impact of youth and adult sports competitions
Sports tourism continues to increase and expand coming out of the pandemic based on many years building a solid reputation for bidding, securing, and hosting first-rate youth and adult competitions and championships by providing a level of service and genuine hospitality unmatched in the industry. The Division's success in attracting meets, matches, tournaments, etc. for youth and adult groups plays a critical role in the overall visitor mix. Including intercollegiate events at FSU, FAMU and TCC, most residents do not realize the impact these tournaments, meets and matches bring to the community. Over the last 15 months, there was $37.2 million in direct spending from amateur sports events, which generated nearly 30,000 hotel room nights last year – a remarkable feat given live events were so severely impacted by the pandemic and all sports events (outdoor & indoor) did not resume play until March and May 2021 respectively. Additionally, the capital investments for enhancements at Apalachee Regional Park have increased proactive event bidding activities which will continue to support the County's growth in sports tourism.
Continued New Hotel Development & Increased Demand for Home-Sharing Lodging
New hotel development accelerated during the pandemic and shows no signs of slowing down. In the last three (3) years, the number and variety of Leon County's sleeping rooms inventory has grown substantially (5 new hotels with nearly 650 sleeping rooms, a +10% increase) showing hotel ownership group's confidence in the destination. Additionally according to Smith Travel Research (STR), the recognized leader in hospitality industry benchmarking, consumer demand for home-sharing accommodations increased substantially during the pandemic and they continue to grow in popularity. This positive growth and expansion of the destination's lodging portfolio for our community will enhance the visitor experience and continue to elevate the destination. Since 2017, the County has entered into Voluntary Collection Agreements with three (3) home sharing platforms: AirBNB, Inc., TripAdvisor LLC, and HomeAway.com LLC. Tourism staff have worked closely with the County's Tax Collectors Office on reports that identify more specifically tax collections for alternative lodging. Since March 2021, alternative lodging collections have been approximately $440,000, nearly 10% of collections in FY2021 ($5.3 million) and account for the third largest lodging type. Additionally, there are currently three (3) hotels under construction which will add an additional 230 or 4% in hotel rooms. Other known future hotel projects include the Hotel Valencia and Courts Hotel with 400 sleeping rooms and 11,000 square feet of meeting space that will be jointly owned and managed increasing the community's ability to host meetings and conventions. These additions continue to solidify the Division's opportunities for Florida's Capital region to host premier business, sports, and leisure travelers.
Increased Tourism Alignment with Destination/Community Development Agencies
Consistent with the strategic priority in the new FY22-26 Tourism Strategic Plan, the Division of Tourism continues to expand engagement and collaboration with economic/community development agencies, including OEV, Blueprint Intergovernmental Agency, Chambers of Commerce, Council on Culture & Arts (COCA), Tallahassee International Airport, Downtown Improvement Authority, etc. to increase alignment and support in destination development projects and programs such as the International Mountain Biking Association (IMBA) and the Summer Concert Series.
Increased Focus on Maximizing and Leveraging Limited Promotional Budget
Limited advertising funds to help advance Leon County as a national destination requires the Division focus on direct sales as the destination rebounds from the pandemic and prioritizing "owned media" (i.e., the VisitTallahassee.com website and destination app, our primary social channels – Facebook, Instagram, etc.) where content is king, for the County's exposure and success in new or emerging markets/segments. The use of digital platforms is also critically important in travel and tourism, with heavy utilization (93%) in both the planning process and while in the destination. Focusing on garnering "earned media" (receiving destination coverage, articles, posts, etc. from media outlets and influencers) helps to leverage media exposure for the destination while highlighting local attractions/activities, hotels, events, etc. along with utilizing digital/social platforms with increased technology for enhanced targeting and messaging. And increasing co-operative advertising opportunities by leveraging the ad buy with industry partner investment allows the Division to expand our reach and target audiences more cost-effectively.
H. Development Activity
External Emerging Trends:
Increased building permitting, development, and construction-related activities
Declining distressed or abandoned properties
Redevelopment opportunities for non-conforming uses utilizing Low Impact Development (LID) standards
Projected increase in new accessory dwellings
Decreased flood insurance premiums
Internal Emerging Trends:
Reduced review and permitting times
Staffing mitigation with technology enhancements and process improvements
Increased citizen input on development regulations
Increased building permitting, development, and construction-related activities
Countywide, there were a total of 6,598 building permits issued in FY21 (29% increase from FY16). Of those 6,598 permits, 619 were new single-family dwellings, producing an increase of 137% from FY16 (261 new single-family dwelling permits issued). Only in FY05, when 740 single-family dwelling building permits were issued, were there more. Commercial building permits have remained at relatively consistent levels during the last 5-year period. Currently, construction activity for new single-family dwellings is at the level the County was experiencing prior to the housing crisis and subsequent economic downturn that began in 2006. However, it is anticipated building permitting and development-related activities in the County will remain consistent during the next 3 to 5 years.
Over the past 5 years, the department has also seen a considerable increase in speculative research, mainly in the number of Permitted Use Verification (PUV) applications submitted. Since 2016, the number of PUV's submitted has increased over 60%. While PUVs have increased during this time, site and development plan applications have been relatively steady with an average of 40 site and development plan applications per year. It is anticipated that this trend will continue at the current rate of growth.
Declining distressed or abandoned properties
As a result of foreclosure and eviction moratoriums implemented due to COVID-19, it is anticipated there will be an increase in the number of complaints received on properties owned by banks or mortgage companies, private lenders and landlords. The Department will continue to implement the Abandoned Property Registration (APR) Ordinance, which was approved by the Board on March 12, 2013. The ordinance establishes a process to limit and reduce the deterioration of property located within the unincorporated area of Leon County in mortgage foreclosure. It requires that any real property upon which a mortgagee has recorded a lis pendens or has filed a foreclosure action be registered with Leon County, the appointment of a local representative to secure and maintain the property, and a sign posted at the property with the contact information of the local representative. Since 2016, the number of Abandoned Property Registrations received and processed has decreased by 50%. This is due to the continual effort to protect the neighborhoods from becoming blighted through distressed abandoned properties with mortgages in default. It is anticipated that the properties impacted by this provision will continue to decrease accordingly as the economy improves.
Redevelopment opportunities for non-conforming uses utilizing LID standards
Low impact development (LID) techniques are utilized to aid in the stormwater treatment process and can help reduce the size of stormwater management facilities as well as create a more aesthetically pleasing landscaped site. LIDs are required in several zoning districts within the County and most recently was incorporated into the Lake Protection Node zoning district and solar energy systems ordinances. LID standards are outlined in Article IV, Environmental Management, and affords any development or redevelopment activity the opportunity to utilize these techniques to help address stormwater management. During the permitting process, staff identifies and discusses LID options, such as inverted landscape islands, pervious pavements, disconnection of directly connected impervious areas, etc., with engineering consultants in an effort to decentralize stormwater treatment, which improves surface water quality and groundwater recharge.
Projected increase in new accessory dwelling construction
As housing prices increase and supply decreases, Leon County continues to see increased interest in Accessory Dwelling Units (ADUs). ADUs, often taking the form of garage apartments or detached units within the backyard of a primary residence, offer a unique opportunity to address a range of housing needs. To meet this increased demand, DSEM staff continues to refine the review and approval process for ADUs and look for opportunities to remove barriers to construction.
Decreased flood insurance premiums
In an effort to reduce flood insurance premiums for unincorporated area residents, the Department initiated application into the voluntary Community Rating System (CRS) program of the National Flood Insurance Program (NFIP). Effective May 1, 2015, Leon County was designated as a CRS Class 6 community and has been able to maintain that rating within the past five (5) years. This rating has enabled residents within the Special Flood Hazard Areas (SFHA) (generally, those with a federal mandatory flood insurance purchase requirement) to receive a 20% discount on flood insurance premiums, and residents outside the SFHA, but in high-risk areas, receive a 10% discount on flood insurance premiums. This program has also enhanced the relationship of our Certified Floodplain Manager with FEMA on issues such as public assistance on Letter of Map Amendments (LOMAs) when property is inadvertently placed in a FEMA floodplain. Staff is currently working towards an enhanced CRS community classification, which is anticipated to further increase the discount on flood insurance premiums.
Reduced review and permitting times
Through the active engagement of users, the leveraging of technology, and a focus on continuous process improvement, review and permitting times continue to be reduced. Over the next several years, additional reductions in processing times are anticipated to occur. Specific upcoming efforts include:
Re-engineering Accela, the Department's permit processing system, to standardize all permit type workflows and allow for online permit application submittals for all permit types.
Implementing a new and simplified methodology of assessing building permit fees.
Incorporating a new file management and plan review system called DigEplan that will be a direct plug-in to the Accela platform, allowing staff to work out of only one (1) program.
All site and development plan applications are now submitted into the Project Dox online application submittal platform which enhances public accessibility and transparency while further expediting review of development applications. Since 2016, staff has also recommended a number of updates to the Land Development Code, ultimately approved by the Board, to streamline application review procedures by reducing ambiguous, duplicative or unnecessary requirements. Staff continues to strongly encourage applicant's use of presubmittal meetings which can help identify concerns at the forefront and reduce subsequent application review delays.
Staffing mitigation with technology enhancements and process improvements
At the onset of the COVID-19 pandemic staff implemented a digital video-conferencing option for meetings with applicants, the public and other agencies in order to maintain CDC recommended social distancing requirements all while continuing to maintain the levels of services offered by the department. In addition, the division has fully implemented the digital application portal, Project Dox, for all applications. Fully implementing Project Dox enables staff to communicate with the applicant, the public and other staff more efficiently and effectively.
Increased citizen input on development regulations
In order to facilitate citizen input on new development regulations, the County implements the use of citizen committees such as the Advisory Committee on Quality Growth (ACQG). The ACQG reviews all proposed land development code amendments and provides input prior to submitting the amendments to the Board for consideration. In addition, staff maintains a strong relationship with outside citizen groups to incorporate their input in new development regulations and/or development activities. These local groups include:
Buck Lake Alliance (BLA): staff has worked with the BLA on a number of projects, mainly within the Fallschase development site. However, staff has reached out to them on other issues within the general area to obtain their input.
Keep it Rural Coalition (KIRC): staff has coordinated with KIRK on a number of revisions to the Rural zoning district standards over the past 5 years. KIRC has been mainly concerned with limiting development activity and maintaining the pastoral or agricultural nature of the Rural zoning district. The latest amendments provided more flexibility on development standards for community service uses based on parcel acreage.
Friends of Lake Jackson: staff has worked with the group on a number of revisions to the Land Development Code, in particular with the Lake Protection Node zoning district. These changes were anticipated to encourage higher quality and more efficient design within the Lake Protection Node areas all while continuing to protect the water quality of the Lake Jackson drainage basin.
I. Planning
External Emerging Trends:
Adequate Lot Availability to Support Projected Population Growth for 20 Years
Increasing Interest in Residential Urban Infill
Increasing Investments in an 18-Hour Downtown
Growing Community Utilization of Biking and Walking for Transportation and Recreation
Internal Emerging Trends:
DesignWorks Continues to Provide Urban Design as a Public Service
Engaging with citizens on updating the Comprehensive Plan continues

Adequate Lot Availability to Support Projected Population Growth for 20 Years
Based on population trends, there is adequate land within the Urban Services Area (USA) to accommodate growth over the next 20 years. Recent updates to the Welaunee Arch Master Plan (Arch) reinforce the intention to provide for growth in a manner that avoids the negative aspects of sprawl. The development program for the Arch contributes to a nodal development pattern that is more easily developed as compact, mixed-use development that is transit and trail oriented. The English Property Planned Unit Development (PUD) is underway and is expected to supply a maximum of 7,820 residential units. The Bradfordville Hills PUD is also in development and is expected to supply a maximum of 54 single family detached units and a maximum of 1,459 office/residential units. Outside of major developments, a study completed at the end of 2020 found 6,687 vacant and potentially developable parcels inside the USA. Additionally, a consultant is in the process of being selected to update the Land Use Element of the Comprehensive Plan, which will include an evaluation of the USA and the Future Land Use Map to ensure adequate lot availability for future population growth.
Increasing interest in residential urban infill
When the Comprehensive Plan was adopted in 1990, it was based around the concept of protecting rural areas from premature development and supporting fiscally responsible growth within the Urban Service Area (USA). While density within the USA has increased since 1990, interest in neighborhoods close to downtown has grown in the past 5-10 years. In addition, new residential development continues to be highest in urban areas, with 91.7% of new residential development permits in 2020 being issues for properties within the USA.
As Downtown and the surrounding areas have seen new restaurants, bars, and personal service businesses open, the desire to live in walking distance to these increasingly vibrant areas has also increased. While this is a positive trend in implementing the high-level goals of the Comprehensive Plan, it also presents policy questions that can be evaluated during the update to the Land Use and Mobility Elements related to how to appropriately provide a mixture of housing types and price ranges while protecting the integrity of established neighborhoods.
Increasing investments in an 18-Hour downtown
Corollary to the Urban Service Area and infill goals of the Comprehensive Plan is supporting the creation of an 18-hour Downtown. Within the Central Core, the Cascades development is a mixed-use project that includes residential, office, and retail space, and provides for public parking. Other projects are revitalizing underutilized space for mixed-use, office, and hotel development. While outside the Central Core, Gaines Street is within the Downtown Boundary and continues to see investment in the form of mixed-use retail, residential and hotel space at Railroad Square. Interest now appears to be building for similar mixed-use redevelopments along Monroe Street in locations north and south of the Capitol. Investments in Cascades Park and FAMU Way, combined with the success of Gaines Street, have increased investment interests to this area.
Growing Community Utilization of Biking and Walking for Transportation and Recreation
Walking, biking, and use of other micromobility (such as electric bikes and scooters) experienced a boom during the ongoing pandemic of 2020-2021, accelerating an already growing trend of citizens choosing alternative forms of mobility for transportation and recreation. The 2020 adoption of the Capital Region Transportation Planning Agency (CRTPA) Bicycle and Pedestrian Master Plan into the Comprehensive Plan cements it as the guiding document for local bicycle and pedestrian projects. The Blueprint penny-sales tax option is working to provide better connectivity of multimodal facilities through the Build the Bike Route System project and Greenways Master Plan Implementation project, combining for over $30 million of investment in the next 10 years. Additionally, the County's sidewalk program supplements projects such as the Magnolia Drive Multi-Use Path project, enhancing our residents' ability to safely navigate the community using alternative modes of transportation. The City/County Bicycle Working group, created in 2012, continues to meet regularly.
DesignWorks Continues to Provide Urban Design as a Public Service
Providing urban design as a public service, DesignWorks responds to 150-185+ private and public project assistance requests annually for a total direct cost savings of $900,000+, in addition to indirect savings. The DesignWorks team assists individual property owners, local developers, and national businesses by offering preliminary design services and consultation at no cost to applicants. DesignWorks concept plans demonstrate how applicants can address plan review comments to meet the intent of code and capitalize on opportunities to provide benefits to community through urban design. Guided by visual graphics in-line with development standards and comprehensive plan goals, applicants' development plans proceed through the review process faster with fewer delays and revisions. DesignWorks services help private consultants do their best work, reduce the number of resubmittals, more easily hit their budgets, and save on lower carrying costs for property (mortgage, interest, and additional consultant service savings). DesignWorks also initiates public projects that result in new projects for the private sector in the form of RFQ/RFP requests such as the FAMU History and Culture Trail currently in design. Additionally, through private sector assistance, DesignWorks has identified and helped to improve code and policy changes that result in better development and design outcomes for the community, including the Lake Protection Node zoning updates and adoption of new Right-of-Way design standards for urban infill projects. The DesignWorks team continues to collaborate with and inspire similar services in other municipalities.
Engaging with citizens on updating the Comprehensive Plan continues
A key to ensuring the community is prepared for growth trends over the next 20 years is updating the policy framework within the Comprehensive Plan. The Mahan Gateway Node, Downtown Overlay District, and Lake Protection Node categories were implemented, or significantly improved, to foster an appropriate mix and location of land uses, promote revitalization and reinvestment in the Downtown, and to preserve the scenic and residential character at Lake Jackson.
The ongoing Land Use Element Update project is expanding on these efforts. A robust public outreach effort is being conducted to collect citizen input and generate guiding community values which will be used to refine goals, objectives, and policies. Because land use and mobility are so closely linked, those two (2) elements will be evaluated and updated concurrently. In April 2021, the Board provided direction to hire a consultant to rewrite the Land Use and Mobility Elements and perform additional citizen outreach. An RFP has been issued and is currently in the evaluation process.
J. Human Services

External:
Increase in demand for human services due to the COVID-19 pandemic
Increase need for mental health services
Increase in VA Claim and Medical Benefits to Leon County veterans
Increase in state funding for the State Housing Initiatives Partnerships (SHIP)
Increase building costs and residential property values
Addressing highest housing needs in Tallahassee-Leon County
Internal:
Increase coordination with the City of Tallahassee (City), Children's Services Council of Leon County (CSC), Big Bend Continuum of Care (BBCoC), and other partners
Continued focus on supporting our local Veterans
Continued focus on affordable housing
Staffing mitigation with technology enhancements and process improvements
Over the past five (5) years Leon County remained an active leader with programs and services that provide a safety net for citizens in need, in partnership with the community. The County's efforts were significantly increased to address the impact of the COVID-19 pandemic the past two (2) years in the areas of human services, healthcare, veteran services and housing services.
Increase in demand for human services due to the COVID-19 pandemic
Local human services partners continue to see significant demand for their services from Leon County residents impacted by the COVID-19 pandemic. In April 2021, United Partners for Human Services (UPHS), Council on Cultural Arts (COCA), and the Institute for Nonprofit Innovation and Excellence (INIE) conducted a survey of local nonprofit organizations, which found that 72% of the organizations experienced an increase in demand for their services since the onset of COVID-19. The organizations represented sectors such as education, healthcare, legal services, and workforce development. Throughout the COVID-19 pandemic, Leon County has partnered with human services agencies to address the evolving needs of the community and coordinate resources to respond to the COVID-19 pandemic. This has been effectuated through weekly conference calls of the Big Bend Community Organizations Active in Disasters (COAD) led by Leon County's Volunteer Services Division, the Emergency Human Services Coordination Workgroup, led by Emergency Management Division, and the Local Homeless Taskforce on COVID-19 led by the Office Human Services and Community Partnerships. The County also participates on conference calls and webinars hosted by the Big Bend Continuum of Care (BBCoC) and UPHS.
More importantly the County has increased its investment, coordination, and collaboration with local partners to address the impact of COVID-19 on County residents and the human services system, including:
Convened the COVID-19 Local Homeless Task Force to coordinate emergency response and mitigation.
Partnered with the Salvation Army to open an emergency Community Relief Center for unsheltered individuals.
Established and funded non-congregate sheltering for homeless individuals and families experiencing homeless diagnosed with COVID-19 or awaiting testing.
Created the Tallahassee-Leon County Homeless Dashboard through Geographic Information System (GIS) bringing situational awareness and performance data across dozens of agencies.
Established Street Outreach Teams to fill service gaps and increase access to housing resources.
Provided $12 million in CARES Act funding to human services including food insecurity, homelessness, childcare assistances, and grants to non-profit and human services agencies.
Provided $11.4 million in housing and utilities through the Leon CARES Individual Assistance Program to prevent evictions and utility interruptions for more than 4,900 County residents.
Established the Landlord Risk Mitigation Fund to increase access to affordable housing for vulnerable tenants.
Provided approximately $15 million in rent, utilities, and internet assistance through the Leon CARES Emergency Rental Assistance Program to Leon County residents impacted by COVID-19 (more than 3,100 households assisted).
Providing $6.6 million in Leon County American Rescue Plan Act (ARPA) funding for local human services partner support including food insecurity, homelessness, legal services, and grants to non-profit services.
Established the Homeless Services Category under the Community Human Services Partnership which will provide more than $3.8 million in County and City ARPA funding and General Revenue for street outreach, diversion, and prevention.
Over the next two (2) years agencies that are receiving ARPA funding to address human service needs exacerbated by the pandemic will provide quarterly reports on clients served including demographic data such as race, gender, and zip code. This information will be included in a future report to the Board in FY2023 on the implementation and expenditure of ARPA funding.
Increase need for mental health services
At the start of the pandemic in March 2020, 2-1-1 Big Bend reported a 33% increase in suicide calls. According to the American Association for the Advancement of Science, there is a causal relationship between poverty and mental health and as a result "improving a person's economic situation reduces their risks of anxiety and depression, and addressing these common mental illnesses reaps economic benefits by increasing employment and an individual's earnings."
Over the past two (2) years, the County has increased its investment in mental health care. In July 2020, as part of Leon CARES funding, $100,000 was budgeted to increase the capacity of 2-1-1 Big Bend to expand its mental health call staffing and contracted mental health counseling in response to an increased volume of suicide calls since the onset of the pandemic. County funding supported the hiring of two (2) additional positions by 2-1-1 Big Bend to triage mental health calls to appropriate free or low-cost mental health services in Leon County. In September 2020, the Mental Health Council of the Big Bend which is comprised of mental health professional organizations including Apalachee Center, Inc., Bond Community Health Center and Neighborhood Medical Center, recommended the establishment of a Behavioral Health Navigator to serve as liaison between high-impact communities and community groups to facilitate information about mental health services and referrals to mental health providers. Subsequently in December 2020, the Board allocated $102,000 of funding to the Florida Department of Health in Leon County (FDOH) for the creation of a Behavioral Health Navigator Position to provide outreach to high-risk neighborhoods identified by FDOH in partnership with the Mental Health Council, to educate and raise awareness of mental health services and treatment in the community and throughout Leon County. In November 2021, the Board approved $10,000 in annual funding to collaborate with the City and Mental Health Council to host mental health outreach events in neighborhoods that have historically experienced disinvestment, poverty, and inequity including Frenchtown, Griffin Heights, Bond, Providence, and South City.
The increase in funding for mental health services is in addition to the funding County's annual investment. In order to provide low-income residents access to mental health services and treatment, the County provides $264,000 annually through the Primary Healthcare Program for mental health services provided by Apalachee, Bond, and NMC. The funding allows for 3,300 mental health visits amongst the three (3) providers. The County also invests $638,156 in state-mandated Baker and Marchman Act Services provided through Apalachee Center for emergency services and temporary detention for mental health and substance abuse evaluation and treatment. Staff will continue to work with the City and Mental Health Council to identify opportunities to maximize and enhance current resources to address the growing need for mental health services in the community. Such opportunities would be presented to the Board for consideration at future meetings.
Increase in VA Claim and Medical Benefits to Leon County veterans
According to the U.S. Department of Veterans Affairs (VA), Leon County's Veteran Services Office assists approximately one-fifth of the local veteran population securing more than $20 million in VA benefit claims and VA Medical Care funding in FY 2021 and more than $118 million in the past five (5) years. Although, the veterans' population in Leon County is has decreased slightly over the past five (5) years, the VA Medical Care funding has increased due to the aging population of veterans in Leon County but also because of the general rise in costs of care. Additionally, in past several years Federal law have been established to provide disability compensation for Veterans for presumptive conditions related chemical exposure while stationed at Camp Lejeune in Jacksonville, NC, and Gulf War Veterans which have contributed to the increase of benefits payable to Leon County Veterans. Recently the VA expanded the presumptive conditions to include Veterans exposed to toxic fumes from burn pits in overseas conflicts including Iraq, Kuwait, Syria, and Afghanistan which may increase in benefits to Leon County Veterans. As a result, the Veteran Services Office continues to assist Veterans with filing claims in person in the office and expanded its services online at the beginning of the pandemic providing Veterans and their families greater access to secure VA as well as local benefits they earned and deserve.
Increase in state funding for the State Housing Initiatives Partnership (SHIP)
The SHIP Program is the primary funding source of the County's housing assistance programs. Over the past few years, SHIP funds have been extremely low (FY 2019 - $167,323; FY 2020 - $171,786; FY 2021 – $ 0 Governor Veto) due to legislative sweeps of the State Housing Trust Fund (sweeps total nearly $4 million when compared to full funding since FY 2017); however, Senate Bill 2512 which passed during the 2020 Legislative session, prevents funds distributed to the State Housing Trust Funds from being swept. As a result, the SHIP Program has allocated approximately $673,000 for the current fiscal year and, due to amount of funds estimated by the State to be distributed to the State Housing Trust Funds this year, staff expects the County to be allocated over $1 million for FY 2023.
Addressing highest housing needs in Tallahassee-Leon County
Affordable housing as defined by the State of Florida and the Federal government is housing that costs no more than 30% of a household's income. Households that expend more than 30% of their total income on housing expenses such as rent or mortgage, utilities, taxes, insurance, etc. are cost burdened and live in housing that is not affordable.
There are approximately 112,000 households in Leon County. Based on staff analysis of data on housing cost burden in Leon County published by the Shimberg Center for Housing Studies, most households in Leon County (71,111) have enough income to meet their housing needs and are not burdened by housing costs; however, nearly 27,000 Leon County households that earn less than 50% of area median income pay more than 30% of their household income on housing costs. As such, during the Board's March 23, 2021, Workshop on Affordable Housing Initiatives, rental units affordable to households that earn 50% or below the area median income were identified as the greatest housing need in Tallahassee-Leon County.
Increase in residential property values and building costs
The Tallahassee Real Estate market is representative of many real estate markets in the United States currently experiencing rapidly increasing home values. Increased construction costs coupled with low mortgage interest rates, an imbalance of buyer demand versus supply as well as other factors have led to substantial increases to home values. According to OEV, the Leon County median home price in June 2021 was $303,900 which is up from $250,000 in June of 2020 and 2019 respectively and represents an increase of 21.5%. Similarly, median home prices across the Tallahassee MSA have increased more than 25% to $289,000 from $229,900 in the same month in 2020 ($235,000 in June 2019).
Since the start of the economic recovery from the COVID-19 pandemic, construction costs have increased exponentially, including the cost of lumber and petroleum-based products (plastics, PVC pipe, etc.) which has directly led to an increase in the production of affordable housing. Although the cost of lumber has subsided since peaking in Spring 2021, supply chain delays related to increased consumer demand and an under-supply of skilled labor is likely to continue to impact the construction of housing, especially affordable units. In December 2021, the Board took several actions in response to the increase property values and building costs including updating the County's State Housing Initiative Program Local Housing Assistance Plan (SHIP-LHAP) to increase the maximum awards for down payment assistance, home ownership development, home rehabilitation, and home replacement. SHIP which funded by the State is the primary source of funding for the County's Housing Program.
Increased focus on affordable housing
Despite limited SHIP funding for housing assistance over last five (5) years, the County continued to administer federal and state programs, including through local partners, to the benefit of the local community. Examples include administration of:
A DEO-CDBG grant in the amount of $750,000 for housing rehabilitation and housing replacement project expenditures;
2020 COVID-19 relief in the amount of $62.2 million to support a broad range of community needs through the Leon CARES plan including $11.5 million for the Leon CARES Individual Assistance program;
The initial Emergency Rental Assistance ("ERA 1") program and the Emergency Rental Assistance ("ERA 2") programs totaling over $17 million for emergency assistance payments on behalf of eligible households including rent and utilities related to financial hardship due to the pandemic;

On December 14, 2021, the Board ratified the County Administrator's request to U.S Treasury of $11 million in additional ERA 1 funding and approved utilizing awarded funds to conduct recertifications for previously awarded applicants, relocation assistance and housing stability services for eligible Leon County residents through December 29, 2022.
In 2021, the Board approved the issuance of $18 million in Multifamily Housing Revenue Bonds to finance the first phase of the Tallahassee Housing Authority's Orange Avenue Apartments redevelopment project known as Magnolia Family. In 2019, the Community Redevelopment Agency (CRA) committed $1,025,000 in County and City tax revenue to Magnolia Family. Magnolia Family is the first of three (3) phases to redevelop the Orange Avenue Apartments into a mixed-income multifamily housing development with 390 units which is 190 more units than the current complex structured as two- and three-story housing, most of which will be available to households earning less than 60% of area median income (AMI). The HFA continues to accept applications for bond funding and anticipate funding additional, affordable multifamily rental development in the near future including unfunded phases of the Tallahassee Housing Authority's Orange Avenue Apartments redevelopment project.
In 2020, the County, City and Tallahassee Lenders Consortium partnered to establish the Community Land Trust (CLT) of Tallahassee and Leon County to create an inventory of homes that remain affordable in perpetuity as well as provide greater access to homeownership and rental units affordable to low-income households. In Summer 2021, the CLT held a groundbreaking event for its first home on one (1) of the County donated parcels and expects to sell the home to an eligible, low-income family in early 2022. Additionally, construction of homes on three (3) additional parcels donated to the CLT is scheduled to begin in 2022. Staff expects to donate five (5) additional County owned parcels to the CLT within the next 12-18 months for the development of affordable housing. The CLT is a successful outcome of the Joint Affordable Housing Workgroup established by both the County and City Commissions in 2016.
As mentioned previously, in December 2021, the Board revised the County's SHIP-LHAP to increase the maximum award amounts for the home ownership development program to address the rising costs in raw materials such as lumber and oil. The Home Ownership Development program will provide SHIP funding to for-profit and not-for-profit organizations such as Big Bend Habitat for Humanity and the Community Land Trust for the first time in 2022 for the construction of homes in unincorporated Leon County, to reduce the sale prices to eligible first-time homebuyers. Additionally, over the next five (5) years, staff anticipates SHIP funds will be utilized for the Rental Development program, which provides financial support toward the development or rehabilitation of affordable rental units (single-family detached or multi-family development). Rental development has not been supported with County SHIP funds for more than a decade due to limited funding.
With the increased focus on affordable housing, increasing SHIP revenues and continued efforts at identifying opportunities to maintain and grow the inventory of affordable housing, residents will continue to see improved opportunities for affordable rental and homeownership opportunities.
Increase coordination with the City, BBCoC, CSC, and other partners
Over the past several years there has been an increase in the coordination with local partners to address the human services in the community which is expected to grow over the next five (5) years. The Board recently expanded the County partnership with the City to address generational poverty and inequities in neighborhoods that have experienced decades of disinvestment. The City's Neighborhood First Program works with residents and community stakeholders in targeted neighborhoods to develop plans to improve the social and economic outlook of the neighborhoods. The Board directed staff to work with the City on the development and implementation of the Neighborhood First Program in order to engage residents and develop plans to address poverty and inequity in targeted neighborhoods including Bond, Frenchtown, Griffin Heights, and South City. County staff is working with the City to further evaluate opportunities to align current County programs including housing, healthcare, and homeless prevention with the established neighborhood plans. The development and implementation of the plans will serve as an opportunity to promote programs, services, and initiatives of the County to neighborhoods and make any necessary enhancements to improve access and awareness to residents that could be captured in the plans.
The Community Human Services Partnership (CHSP) has been strengthened with the expansion of the Promise Zone in 2020 to include additional high poverty census tracts and County participation in the funding of the category. Additionally, the Homeless Services Category was established in CHSP by the Board in July 2021 and will include coordination and collaboration with the Big Bend Continuum of Care (BBCoC) which is recognized by the federal and state government for the regional planning and coordination of homeless services in Leon County. The Homeless Services Category will fund emergency shelters, permanent supportive housing, and diversion programs to reduce homelessness in Tallahassee-Leon County.
In November 2020, the voters of Leon County established the Children's Services Council of Leon County (CSC). Currently 67% of programs funded through CHSP provide services to children and families. On November 18, 2021, the CSC directed its staff to work with the County and City on the establishment of a memorandum of understanding to identify opportunities for collaboration to enhance data sharing and align program metrics. Subsequently, on December 14, 2021, the authorized the County Administrator to develop a Memorandum of Understanding with the City and CSC to partner on opportunities to collaborate and coordinate on the funding, program delivery, program evaluation, and outcome measures for children and family services. A proposed MOU will be agendaed for consideration by the Board at a future meeting.
Staffing Mitigation, technological and process improvements
Due to reduced SHIP funding, staffing levels in the Division of Housing Services was reduced from four (4) to three (3) full time equivalents in 2017. Since 2019, the County has contracted with Neighborly Software (Neighborly) to provide an online application portal, which also serves as a case management and data collection platform for the County's Housing Services Programs, Direct Emergency Assistance Program (DEAP), and Veteran Emergency Assistance Program (VEAP) as well as the County's ERA programs. These efforts have improved the quality and timeliness of service while reducing staff input as well as provided better support to achieving grant compliance; however, the return of SHIP funds in excess of FY 2015 and 2016 levels (nearly $500,000 on average) and the expansion of housing services programs are likely to require evaluating additional staffing for the Division of Housing Services to maintain the level of customer service while effectively expending more than twice as much annual SHIP funding.
Continued focus on supporting our local Veterans
Every day, Leon County's Veterans Services Division assist veterans and their dependents with accessing federal, state, and local benefits earned for their honorable military services. Over the past five (5) years, Leon County enhanced or launched a series of programs, services, and initiatives designed to recognize and support local U.S. military Veterans. Some of the highlights include:
Partnered with Honor Flight Tallahassee to recognize the National Pearl Harbor Remembrance Day with the sponsorship of the annual Honor Flight Reunion Dinner
Enhanced Operation Thank You by partnering with the American Legion to occur annually on Veterans Day, in honor of the men and women that served in the U.S. military
Enhanced outreach to Veterans that apply for County employment with direct mailers to inform them of the programs and services available through the County's Veteran Services Division
Established the Operation Thank You Wreath Initiative which places wreaths at all major Veteran monuments and cemeteries on Memorial Day
Enhanced the Veterans Emergency Assistance Program (VEAP) to increase emergency financial assistance to qualifying Veterans for rent, mortgage, utilities, temporary shelter, and transportation

.
K. Energy and Sustainability

External:
Increasing waste with changing types of waste streams
Changing needs in the transportation sector
Continued increase in community engagement and leveraging of partners
Continue to pursue state funding to address water quality issues
Updated recommendations from United Nations Sustainable Development Goals
Inclusion of diversity and equity into sustainable planning and efforts
Increasing use of internet capable devices leading to "Internet of Things"
Internal:
Continued shift to clean energy and energy efficiency
Continued implementation of our PACE (Property Assessed Clean Energy) program
Modernization of buildings
Continued focus of equity and inclusion
The County has been steadfast in its commitment to fostering a healthy and sustainable community. This commitment has been highlighted through local partnerships, securing grant funding opportunities, and leading by example with a "net-zero" energy building, three (3) LEED certified buildings, and the support of 62 community gardens. Addressing the following emerging trends, is critical to continue to foster a healthy and sustainable community.
Increasing waste with changing types of waste streams
In 2020, Leon County achieved the 4th highest traditional recycling rate (which excludes waste-to-energy) in the state and the 8th highest rate overall, an increase from 2019 where Leon County ranked 9th and 14th respectively. This increase in ranking is due to a simultaneous increase of construction and demolition debris recycling in Leon County and a decrease of construction and demolition debris recycling in other counties. Our recycling rate is no small accomplishment given that many counties with higher recycling rates incinerate their waste and thus receive additional waste-to-energy recycling credits. Most of the counties in Florida that had recycling rates above 70% have waste-to-energy facilities. These counties receive a significant portion of their recycling credits from this alternative landfill diversion operation. For example, in 2020, Pinellas County had a traditional recycling rate of 51% (compared to Leon County's 60%), and yet achieved an 78% overall recycling rate when waste-to-energy credits were included. Leon County does not have a waste-to-energy facility yet has consistently achieved high recycling rates in the state in recent years.
Leon County did not meet the statewide recycling goal of 75%, only three (3) counties did largely due to the aforementioned waste-to-energy credits. There is no penalty for not meeting the goal. Though the goal was set for 2020, there is no sunset date, therefore Leon County will strive to meet the 75% statewide recycling goal until new legislation provides direction. Staff will continue to research and implement strategies to reduce the community's overall waste, improve recycling participation and quality, and educate the community on best practices.
Additionally, types of waste streams are expanding, leading to increase stress on our environmental systems. As an example, nationally there has been an increase in medicinal waste, which is negatively impacting waterways.
Changing needs in the transportation sector
From 2016 to 2020, electric vehicle (EV) adoption rose around 17% in the U.S. For the year 2020, EV sales captured 2% of new light duty vehicle sales. It is estimated that 55% of vehicles on the road in 2045 will be EVs. Florida is ranked number 2 in the nation for new EV sales, but 30th for EV infrastructure. There is currently one (1) charging station for every 30 EVs on the road in Florida. To meet the rapidly growing demand of the market and advance the county's Integrated Sustainability Action Plan goal of decreasing county greenhouse gas emissions by 30% by 2030, there is a need to expand and build a resilient EV infrastructure system.
To address this need, the Infrastructure Investment and Jobs Act (H.R. 3684, "IIJA"), a five-year, $1.2 trillion comprehensive infrastructure package recently signed into law, provides historical investment in the nation's infrastructure. Among other provisions, the IIJA provides $7.5 billion in grant funding to support EV network expansions over the next five (5) years, including the deployment of EV refueling infrastructure and EV-related data collection to facilitate long-distance travel and access to convenient charging locations. Of the nearly $17 billion in transportation funds estimated to be allocated to the state of Florida under the IIJA, $198 million of these funds are expected to be available for electric vehicle network expansion statewide over the next five (5) years.
In addition, the Build Back Better Act (H.R.5376, "BBBA"), the proposed $1.75 trillion budget reconciliation package currently being negotiated by Congress, seeks to provide additional investment to support EV network expansions. As currently drafted, the BBBA proposes to provide tax incentives of up to $12,500 to incentivize the purchase of electric vehicles, including battery and plug-in hybrid electric vehicles. The proposed tax credits would be available to individuals for the purchase of new or previously owned electric vehicles, and companies for new vehicle purchases. While having passed the U.S. House in November 2021, the BBBA will be subject to change as negotiations continue between the two (2) chambers; the County's legislative team will continue to monitor development of the BBBA framework.
Continued increase in community engagement and leveraging of partners
Community education and outreach is a staple of the County's success in expanding knowledge and therefore guiding behavior change. A modern and interactive approach is taken which includes reaching County employees, area residents, and key stakeholder groups. Outreach focuses on the broader scope of sustainability, expanding beyond merely recycling education. Efforts include the development of classroom curriculum, website, social media platforms, new employee orientation, workplace workshops and perhaps most noteworthy they biennial Sustainable Communities Summit. The Office of Sustainability will be hosting the next Summit in early 2023.
The Office of Sustainability has fortified key stakeholder relationships through the establishment of the Capital Area Sustainability Compact (CASC) – which brings together Leon County Schools, Florida State University, Capital Regional Medical Center, Florida A&M University, the City of Tallahassee, Tallahassee Community College, Tallahassee Memorial Healthcare, and Leon County Government to tackle sustainability challenges and identify shared opportunities. Beyond the compact, the Office of Sustainability has also established an initiative to foster a network of sustainable businesses called SustainaBiz. Local businesses can apply to have their sustainability efforts recognized and receive ongoing support and guidance from the SustainaBiz community. Outside of these opportunities, the Office of Sustainability continues to engage citizens through regular monthly meetings, Leon County through a regular newsletter and Green Team meetings, and facilitating trainings and presentations by request.
Continue to pursue state funding to address water quality issues
Since 2017, Leon County received state funding for the design of the Woodville Community Septic to Sewer Project, and construction funds for Phase IA which includes the master lift station and initial collection system. State funds are also in hand for the design and construction of the Northeast Lake Munson and Belair/Annawood Septic to Sewer Projects. The County will continue to work with the state on the construction funding for Woodville Phases 1B, 1C-1 and 1C-2 to complete the project as designated in the multi-year funding plan. The County will also work with the state on incentive funding for septic tank upgrades in the Wakulla Springs Basin Management Action Plan Priority Focus Area. It is expected that sewer connections will be made available for over 500 parcels in the next five (5) years with these projects.
Continued shift to clean energy and energy efficiency
Installations of renewable energy and energy efficient technologies have been increasing. This trend has been driven by environmental stewardship as well as cost savings. Clean energy and energy efficient technologies continue to improve resulting in increased returns in the form of energy savings. As costs decline and efficiencies increase, clean energy and these technologies become more and more appealing. In the past 15 years, the County has made considerable strides in implementing energy conservation measures (ECMs) such as efficient air conditioning units, lighting, and water fixtures. Many of these ECMs were the result of the County's 2005 Energy Savings Contract (ESCO). Further building on the past successes of the ESCO, the Board authorized the County Administrator to negotiate and execute a new ESCO contract at the July 14, 2020 Budget Workshop valued at $17 million dollars. The project consists of 22 selected ECMs) such as lighting upgrades, water conservation, and weatherization. The project is nearing completion, with all ECMs beings completed in January 2022. Collectively, the projects have a simple payback for energy savings of ten years or less. Mechanical systems such as air handler units have been upgraded for the Courthouse, Main Library, and Public Works. The largest emphasis is placed on the Sheriff's Complex including the Detention Center as it operates 24/7 those mechanical systems experience the most demand and offer the greatest energy savings. Building electrification accounts for the largest portion of the County's greenhouse gas emissions, thus these ECMs are anticipated to contribute greatly to the County's goal of reducing greenhouse gases from government operations by 30% by 2030 from the 2015 baseline. In the past year, Leon County realized $1.6 million in utility savings from energy conservation measures, bringing the cumulative total to $12.6 million from these upgrades.
Continued Implementation of our PACE (Property Assessed Clean Energy) program
Leon County launched the Property Assessed Clean Energy (PACE) program in August 2017. The PACE program allows for the property assessed financing on energy improvements and weatherization upgrades for both residential and commercial properties in Leon County. Since the launch of the PACE Program, 148 homes have been improved with a total project value of $1,850,270, and three (3) commercial PACE projects have been completed with a cumulative project amount of $3,558,938. As anticipated, Leon County's program participation is consistent with other like sized Counties in Florida.
As reported to the Board in the December 2020 Sustainability Program Update, FDFC notified the County that its residential provider, Renovate America, had made an unanticipated business decision to halt its residential PACE Financing Program nationally and later filed for Chapter 11 Bankruptcy. The bankruptcy does not affect any of the residential PACE improvements already completed. Since that time, FDFC has evaluated adding an additional residential provider, however, FDFC has decided to only move forward with maintaining a commercial PACE program.
To maintain Leon County's successful residential PACE Program, the County evaluated joining one (1) of several different PACE special districts. Based on an analysis of the other PACE districts, the County join the Florida PACE Funding Agency (FPFA) during the November 9, 2021 Commission meeting. Like most special districts, the FPFA also provides a commercial PACE program. In addition, the County remains with the Florida Development and Finance Corporation (FDFC) which continues to provide an alternative commercial PACE option.
L. Parks & Recreation
External:
Increased Interest in outdoor recreation
Growing demands for Senior Programming and Engagement
Decline in Youth Sports Programming Participation
Internal:
Increased amenity offerings within Parks
Increased interest in outdoor recreation
Utilizing parks and natural spaces helps fight against mental health issues like depression, anxiety, and stress. Mental health became collateral damage during the pandemic and, as a direct result, parks and recreation usership increased exponentially. The data confirms a dramatic increase in outdoor recreation due to COVID-19. According to the 2021 Outdoor Participation Trends Report conducted by the Outdoor Foundation; in 2020, 160.7 million Americans ages 6 and over participated in at least one (1) outdoor activity. Driven by COVID impacts, 7.1 million more participated than in 2019. The outdoor participation rate rose to 52.9% in 2020, up from 50.7% in 2019. This was the largest one-year jump on record. Nationwide, outdoor activities such as running, bicycling, day hiking, bird watching, and camping participation have risen noticeably since the onset of the COVID-19 pandemic. Leon County is no exception; there have been significant increases in the usage at County greenways, passive parks, boat landings, and campgrounds. This trend is expected to continue even as COVID-19 subsides. Additionally, with the increase in outdoor recreation, we have noticed a heightened increase in the County's Amenity Program (citizens can purchase benches, etc. to honor someone) and suggestions on new amenities offering to be incorporated into parks.
Growing demand for Senior Programming ad Engagement
Those between the ages 65-79 are the fastest-growing age group in Leon County. This demographic is highly active and utilizes different resources than the previous generation. With COVID-19 forcing many changes within senior programming now is a great time to evaluate the AARP survey, conduct further research and host an open house session or create a focus group to hear and understand what seniors would like expanded within the current program. For example, the possibility of more fitness-type classes as this demographic is more active than prior generations.
Decline in Youth Sports Programming Participation
Youth sports league participation among American kids between the ages of 6 and 12 has dropped from 45 to 38 percent between 2008 and 2018, due mainly to the increasing costs, time commitments, and competitive nature of organized sports leagues. Additionally, County youth sports programming participation numbers were declining before the Pandemic but has seen a more significant decrease since the onset of COVID-19. Youth league sports are beginning to rebound; however, participation is still low compared to historical involvement. The growing concern is that local programmers that traditionally have engaged youth (parks and recreation departments, YMCAs, Boys and Girls Clubs, etc.) won't remain competitive with private organized team sports due to available resources.
While traditional league play has declined, the Pandemic has led to a growing interest in additional passive outdoor activities among youth. We will continue to explore ways to offer programming around this growing interest in addition to expanding the current sport offerings to cover the most popular (soccer) and fastest growing outdoor sport and continued investment in our trail system.
M. Staffing
External Trends:
"The Great Resignation"
Health insurance costs continuing to rise
Impacts of legalized medical marijuana being monitored
Impacts of Florida New Minimum Wage
Internal Trends:
Changing employee demographics leading to an aging workforce
Continue to have one of the lowest per capita employee ratios in the state
"The Great Resignation"
A record number of Americans are voluntarily leaving their jobs for new opportunities or leaving the workforce entirely. According to the most recent U.S. jobs report, 20 million people quit their jobs in the second half of 2021. There are multiple contributing factors to this phenomenon being dubbed by may as the "Great Resignation." The most commonly cited reason is that federal stimulus programs and increased unemployment benefits allow workers who were laid off during the height of the pandemic to not return to the workforce as quickly. However, recent research from Goldman Sachs found that nearly two-thirds of those quitting their jobs in August 2021 were actually retiring. This can in part be attributed to increasing home values, stock prices, and 401(k) contributions which allowed many older employees to have the assets need to comfortably retire early. Another issue is parents, primarily mothers, leaving the workforce to care for children because they are attending school virtually and because daycares have reduced capacity or shutdown entirely. A recent Society for Human Resource Management (SHRM) report explained that the cascading impact of these departures has increased the workload for those who choose to stay with their employer. This is especially true for Millennial and Generation Z employees, who make up the majority of the current U.S. workforce. According to SHRM, 63% of these younger employers are now unsure if their pay is sufficient and half said they thought about leaving their job more often following a colleague's resignation.
As a result of these changes in the labor force, some businesses have been unable to fill vacant positions quickly which has forced them to cut business hours, offer fewer services, or increase wages and benefits. SHRM recommends several strategies to both retain and attract employees, which Leon County Government has put in place. These include establishing a living wage, which Leon County did by raising its minimum wage to $12/hour in 2018 and to $14/hour in 2021. To ensure the organization continues to offer competitive salaries within our region, performance pay increases are provided as part of the employee evaluation process and Human Resources conducts an annual high-level market assessment. Another strategy recommended by SHRM is to invest in employees is by providing training and career advancement opportunities. Leon County has achieved this through diverse training and professional development offerings including sponsoring employees in the State's Certified Public Manager and ongoing enhancements to the County's internal Management Training Program. To incentivize employees in furthering their education, the County also offers tuition reimbursement or educational attainment pay increases. Finally, SHRM recommends that organizations are able to compete for prospective employees by having an efficient hiring process. Currently, Human Resources is working to decrease the average time to fill vacancies through process improvement, automation, as well as innovative strategies such as the recent Hired on the Spot event, a one-day job fair where 43 applicants were hired to fill critical County positions.
Health insurance costs continuing to rise
Affordable health insurance continues to be a primary concern for both employers and employees. Although the pandemic is fueling uncertainty about overall expenses, employer health insurance costs are expected to continue to rise in 2022 and beyond. In 2021, Leon County's health insurance costs rose 4.6 % over the previous year. However, the uncertainty associated with the COVID-19 pandemic makes it even more difficult to project future healthcare cost. Employees nationwide have delayed or deferred preventive and elective medical procedures and increased their use of telemedicine. To address these trends, employers are finding innovative ways to balance healthcare affordability and employee wellbeing by diversifying health plan design options. Today's health plan design strategies must meet the needs of a diverse workforce that includes millennials and baby boomers with traditional and non-traditional families and varying health risks. Human Resources is currently exploring best practices in health care plan design to ensure Leon County continues to offer cost effective health care options that meet the needs of a diverse workforce.
Impacts of legalized medical marijuana being monitored
Florida became the 26th state and the first in the South to allow medical use of marijuana. In November 2016, Florida voters approved Amendment 2 which recognizes marijuana as a treatment for 10 specified conditions: cancer, epilepsy, glaucoma, HIV, AIDS, Crohn's disease, Parkinson's disease, multiple sclerosis, amyotrophic lateral sclerosis, and post-traumatic stress disorder. It also allows doctors to recommend marijuana for patients with "other debilitating medical conditions of the same kind or class as or comparable to those enumerated. In June 2017, Senate Bill 8A, the Medical Use of Marijuana Act, was passed during a special legislative session to implement rules for making medical marijuana available to Floridians. As a result, Florida only considers cannabis products purchased by a certified patient through a licensed dispensary as medical marijuana. The Florida Department of Health established the Office of Medical Marijuana Use to implement these rules and changed the name of the Compassionate Use Registry to the Medical Marijuana Use Registry.
Florida Medical Marijuana for Mental Health Disorders Initiative (Initiative #18-02) may appear on the ballot in Florida as an initiated constitutional amendment on November 8, 2022. The measure would amend Amendment 2 (2016), which legalized medical marijuana in Florida, to add nine (9) mental health disorders to the list of qualifying conditions to purchase and use medical marijuana. The additions to the qualifying conditions list would include bipolar disorder, opioid use disorder, panic disorder, anorexia nervosa, bulimia nervosa, insomnia disorder, alcohol use disorder, generalized anxiety disorder (GAD), and major depressive disorder (MDD).
There is a push to legalize recreational marijuana which could be on Florida's 2022 general election ballot. Regulate Florida is working to add the proposal to the ballot provided they can obtain the 223,000 signatures needed to obtain the Supreme Court review and another 890,000 valid signatures by January. There have been attempts over the years to legalize the recreational use of marijuana in addition to decriminalizing its use. To date, Florida has only legalized the use of medical marijuana.
In June 2021 the Board approved the revision of Policy No. 16-1, "Drug and Alcohol-Free Workplace Policy", to clarify that employee use of medical marijuana is strictly prohibited. Although the medical use of marijuana by a qualifying patient with a debilitating medical condition is now legal in Florida, Florida law does not require employers to accommodate the medical use of marijuana by its employees. Also, Leon County participates in the state's drug-free workplace program and thereby receives a discount on its workers' compensation insurance premium. The County also relies on federal grants and, as a recipient of federal grants, the County is required to maintain a drug-free workplace. Further, any employee subject to federal regulations may not use medical marijuana under any circumstance. Staff and the County Attorney's Office will continue to monitor the law's implementation relative to the Americans with Disabilities Act (ADA) and evaluate possible impacts related to Leon County employees.
Impact of Florida New Minimum Wage
The State of Florida requested raising Florida's minimum wage by placing it on the ballot during the November 2020 election as Amendment 2. The voters approved Amendment 2, which increased the minimum wage to $10.00 per hour effective September 30, 2021. Each September 30th thereafter, the minimum wage shall increase by $1.00 per hour until it reaches $15.00 per hour on September 30, 2026. From that point forward, future minimum wage increases shall revert to being adjusted annually for inflation starting September 30, 2027. Since the Board approved paying a living wage of $14 to its employees as part of the FY2021/2022 budget, the increase to the Florida minimum wage will not impact the County for several years as we are currently $4 per hour more than the new State minimum wage. As part of the upcoming budget process, a broader policy discussion will occur for the Board to decide whether to continue utilizing a living wage as a salary benchmark for our lowest paid employee or remain consistent with the State of Florida minimum wage.
Continue to have one of the lowest per capita employee ratios in the state
As one of the County's key personnel efficiency metric, Leon County annually surveys Florida Counties to determine staffing ratios and evaluates any changing trends. Leon County continues to provide one of the lowest staffing ratios per thousand residents when compared with other counties in Florida. When examining like-sized counties, Leon has the second lowest staffing per thousand at 6 employees, with only St. Lucie having fewer, five (5). Among all of Florida's 67 counties, Leon ranks sixth lowest in staffing per thousand tied with Lake and Escambia. Other comparable counties including St. Johns have nine (9) employees per thousand residents and Alachua have 8. Leon County ranks in the top 10 for lowest per capita positions in the entire state.

Changing employee demographics leading to an aging workforce
The Baby Boomers have begun entering the retirement cycle. Approximately 302 Board employees will either retire or will be eligible for retirement within the next 5 to 10 years. This represents more than 41% of the Leon County Workforce. Of this number, over 30% (101 employees) are in the Public Works Department. Another 26% (78 employees) are in Executive/Sr. Management positions throughout the organization. These retirements have the potential to result in significant reductions in the availability of critical skills and experience within the workforce. To address these issues, the Board approved Policy 16-4 Succession Management which is designed to identify positions critical to the success of our "People Focused, Performance Driven" culture and the core competencies needed to successfully perform in these positions; as well as prepare candidates to move into these key positions in the organization when they become vacant. Key organizational and personnel changes address issues and ideals critical to continued organizational effectiveness including: Succession Management, Talent Retention and Recruitment, and Diversity. This policy provides for continuity in leadership to avoid extended and costly vacancies in key positions.
N. Technology
External Trends:
Cyber security threats are increasing for network and data security and stable Internet connectivity
Remote worker & mobile worker capabilities are needed
Leveraging cloud computing as an alternative to on-premise compute environments in cases where it makes sense to do so
Integration of software solutions with the Microsoft suite continues to grow
Transparency and Citizen Engagement are expected of government
Internal Trends:
Shared infrastructure continues to be cost effective and the best solution for County and Constitutional Offices
Mobile work applications continue to be in demand
Leanness of staff and aging workforce are a vulnerability for continued and expanded services
Continue to modernize and streamline activities through technology
Leon County has been a recognized Digital County since 2011 and most recently recognized in 2021 by NACO and the Center for Digital Government. A Digital County uses information and communications technologies to provide government services that enable transparency and citizen engagement through high functioning web sites, mobile applications, and social media and utilize technical advances in cloud computing, virtualization, shared network resources & data centers, and modernized infrastructure and security. Advanced decision support tools such as geographic information systems and electronic document and content management systems are other resources found within a Digital County. Additionally, a Digital County is aware of key emerging trends, from both external and internal perspectives and is aligned to address those trends.
Cyber security threats are increasing for network and data security and stable internet connectivity
Nationwide, most IT organizations continue to list cyber security as a top priority and concern. Almost every week, governments fall victim to ransomware attacks or cyber breaches that cause extreme disruptions of services. Forbes recently reported, "82% of employers felt that "cybersecurity is now extremely important or more important than before COVID-19," and went on to say, "Expect to see significant new investments in cybersecurity IT systems and infrastructure."
The term "cyber security" paints with a wide brush and the County continues invest in cyber security efforts. In October 2021, the County hired its first Cyber Security Manager, a tremendous step toward the continued cyber security initiative. A recent security audit (performed by Trulight, completed September 2021) also assessed opportunities for added protection and monitoring.
Leveraging cloud computing as an alternative to on-premise compute environments in cases where it makes sense to do so
The term "cloud computing" can have multiple meanings, but in this context it refers applications that do not live directly on the Leon County network. Advantages of cloud computing include ease of upgrades and maintaining current software versions. Leon County has been an early adopter cloud computing solutions in areas where it is viable such as the permit tracking solution for DSEM, Patient Care and Billing System for EMS; HR's recruiting, onboarding, and performance system; OMB's budget development system; the Library's work order system for cataloging, online patron access, media inventory; and a host of productivity tools for surveys, project management and event planning. Future uses of commercial cloud computing are being considered such as additional solutions to expand DSEM's permitting and licensing offerings, upgraded telephone solutions, and new justice information system management tools, among others.
Integration of software solutions with the Microsoft suite continues to grow
As new functionalities with the Microsoft suite continues, Leon County will leverage tools as appropriate. One such tool is PowerBI. PowerBI is a powerful tool that can analyze large data sets, provide visual information to explain complex datasets, and automate many tasks in the Office 365 platform. It is being limitedly used today for analyzing general Library data and crime data, etc. but expanded possibilities, such as automating many internal processes are possible. This additional productivity tool to assist with day-to-day operations will allow staff to do more with less and allow the ability to build more automation. Additionally, included in the Microsoft suite of offerings are security tools that are also being considered to help enhance our security armor.
Shared infrastructure continues to be cost effective and the best solution for County and Constitutional Offices
The County has been a leader in sharing infrastructure which promotes costs savings and avoidance, minimizes duplication of effort, and increases collaboration for shared processes. A common network, email system, desktop applications, Internet, phone system and recently built data centers at the Public Safety Complex and the Jail for backup and/or test/development environments for the City, the County, and constitutional organizations are examples of that along with a shared Geographic Information System and Justice Information System.
Today, all constitutional offices are leveraging the County's email platform and phone system. All but the Clerk are using the County's Internet and network. However, discussions with the Clerk were productive and there was interest in bringing the Clerk over as well with potential savings identified.
Mobile work applications continue to be in demand
One thing that COVID created is change in the way many services are offered. Having the ability for remote work is now a requirement in order for County offices to provide continued services in any situation or emergency. During the pandemic, remote workers demonstrated that Leon County can and will continue to offer services to our citizens, regardless of where the staff members are physically located. The ability to access our desktops, files, and resources needed to do our jobs from any location was once a nice-to-have offering, but is now a necessity for Leon County to stay relevant in the future. We've made great strides in providing mobile desktops for we must continue to provide accessible but secure applications that can be accessed remotely as well.
This trend extends to citizens who have learned in this era that if they can have a doctor visit via their mobile phone at home; then they also expect the ability to access most services from home, including County services. Applying for and checking status of building permits, paying fines, requesting services, attending court remotely, have become the norm and citizens expect this level of service. OIT is always scouting for ways to expand services to our citizens with creative solutions that allow citizens to engage remotely.
Continue to modernize and streamline activities through technology
OIT will continue to work with County departments to modernize and streamline processes. Several accomplishments are the online development review and plans submissions process with Accela and coming soon: DigEplan; online employee benefits enrollment, electronic First Appearance for the Courts, work order management for Public Works and Facilities, and electronic timesheets, paperless workflows for Human Resources for e-recruiting and onboarding of employees, and e-learning. We've just started using electronic authorizations for a few specific approval processes and this need is expected to grow. Other County processes are also being reviewed and will be improved.